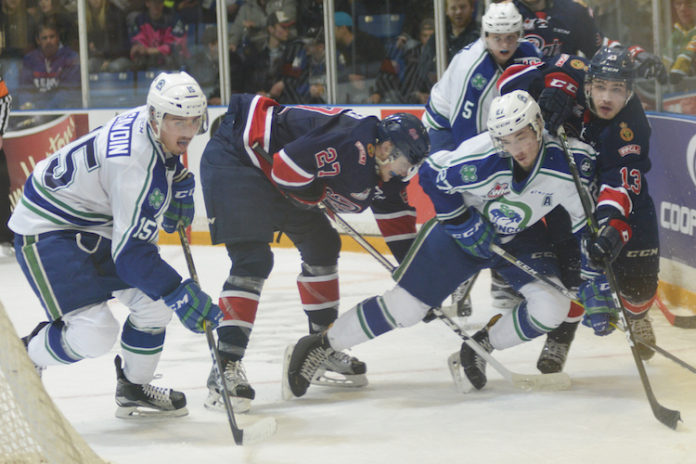 Colby Sissons scored only 1:46 into overtime to lift the Swift Current Broncos to a 2-1 win over the visiting Regina Pats for a 2-1 series lead in the Eastern Conference best-of-seven semi-final.
Sissons collected the puck behind his own net and raced down ice before firing a wrist shot on goal from just inside the blueline to lift the Broncos to their second overtime win of the playoffs.
"It's awesome," said the 18-year-old defenseman. "It is the same feeling as game one I guess, but a little bit bigger when you can do yourself."
"It is pretty unreal," added Max Lajoie. "As soon as he shot it and we seen it go between his legs, we weren't sure if it was in or not and then it trickled in, so we were really happy and just really excited."
The two teams played a fast-paced first period filled with scoring chances, including a breakaway chance from Aleksi Heponiemi and a partial breakaway chance from Tyler Steenbergen, although the Pats outshot the Broncos 14-12.
The two teams traded goals in the second period. Dawson Leedahl opened the scoring when he won a scramble in the slot and fired it home for the Pats third straight opening goal of the series.
Conner Chaulk quickly equalized 2:07 later for the Broncos when he was hooked up on a power play rush yet still managed to wrist a puck home for his first of the post-season.
The third period was highlighted by a massive open-ice hit from Regina's Connor Hobbs on Savhan Khaira. The resulting rush saw Lane Pederson wire a puck off the bar as the Broncos pushed for the go ahead goal.
Jordan Papirny made 33 saves to improve to 6-4-0 in the post-season. Tyler Brown took the loss with 31 saves on 33 shots to fall 5-0-2.
"It is huge," said Sissons of getting the win in front of a sold out crowd at home. "We love playing in front of these fans. They have been awesome throughout the whole playoffs and all year. I guess we used the crowd as momentum and hopefully we can do it again tomorrow."
The two teams will face one another in game four on Tuesday again in Swift Current.