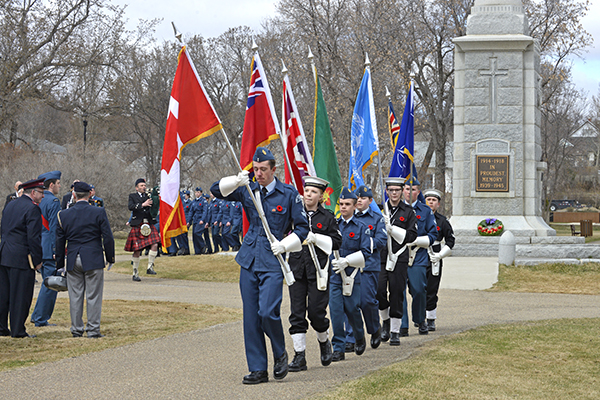 Swift Current residents had an opportunity to recognize the 100th anniversary of the Battle of Vimy Ridge during a solemn afternoon ceremony on April 9.
Members of the Royal Canadian Legion Branch #56 in Swift Current were joined by cadets from the 605 Tarry Royal Canadian Air Cadet Squadron and the 259 Royal Canadian Sea Cadet Corps Drylander, members of the Green Braes Pipes and Drums, and RCMP members during the brief observation.
The Battle of Vimy Ridge was a defining moment in Canada's history, but it came at an enormous cost, as 3,598 soldiers made the supreme sacrifice and over 7,000 more were wounded during the four-day battle. The battle marked the first time that the four divisions of the Canadian Corps fought as a single force. The accomplishment of the Canadians at Vimy Ridge remains a defining moment for the nation. During World War I, over 650,000 men and women served their country, and close to 61,000 Canadians were killed in battle.
Documents show 30 members of the 209th Swift Current Battalion Canadian Expeditionary Force were killed in action at Vimy Ridge on April 9, 1917. The fatalities were from: Swift Current, Tompkins, Maple Creek, Elrose, Cabri, Coriander, Shaunavon, Eastend, Abbey, Rosetown, Waldeck, Success, Kincaid,
Canadians coast-to-coast held special memorial events on April 9, with a major observation hosted at the National War Memorial in Ottawa, and a special ceremony was held at the Canadian National Vimy Memorial in France.
Governor General of Canada David Johnston spoke at the memorial in France, and a part of his Vimy Ridge centennial address is as follows:
"Fighting together for the first time as one, facing an entrenched, determined enemy, the Canadian Corps took Vimy Ridge.
Victory was achieved through incredible struggle, determination and bravery.
Through months of careful planning and surveillance.
Through technological and social innovation in warfare.
Through learning the hard lessons of war.
Victory was achieved because a sense of trust existed within the ranks.
Despite all these advantages, the outcome was uncertain, the cost of victory very high.
Three thousand, five hundred and ninety-eight Canadians were killed in the fighting.
Seven thousand were wounded.
Today, 100 years later, we honour their eternal sacrifice.
We mourn their loss.
And we remember them.
We remember their loved ones back home, bereft in the absence of sons, grandsons, husbands, fathers, friends.
And we mourn the generations of Canadians unborn because of their loss."
Canadian flags were flown at half-mast on Sunday to mark the National Day of Remembrance of the Battle of Vimy Ridge.