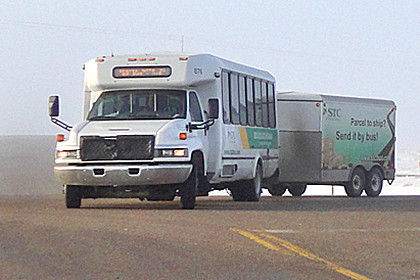 In a sudden move, the province announced that the Saskatchewan Transportation Company will be wound down by the end of May.
With significantly declining ridership over the past decade, combined with rising costs, the province can no longer afford the large annual subsidy from taxpayers to operate the service. The per passenger subsidy has risen from $25 per passenger a decade ago to $94 per passenger.
"The reality that came home for us…everything that they possibly could do to try and change their business model to improve their revenue base and to get ridership up, just did not work," Minister of Finance Kevin Doherty said during a conference call.
Ending the STC service will result in a savings of $85 million which the province would have spent over the next five years.
In making their decision, the province pointed out that last year STC had 77 per cent fewer riders than 1980. A total of 787,455 passengers utilized STC services in 1980, with that total dropping to 200,914 in 2015. The province forecasts that ridership would further deteriorate to 182,386 in 2016/17, an additional decrease of -9.41 per cent.
"STC has become unsustainable without subsidies, and that money would be better spent on other areas such as health care, education and infrastructure," Doherty said.
The Crown Investments Corporation will oversee the wind-down of STC services. The province notes that in some situations private sector or not-for-profit operations could pick up freight delivery services, and potentially passenger service depending on demand.
The winding down of STC will impact 230 employees who operate 25 routes, while two additional routes are contracted to a private operator.
There was just a single operational STC route in the Southwest, running daily from Swift Current to Saskatoon. The Eastend/Mossbank, Eastend/Swift Current STC route was discontinued back on Jan. 1, 2014. That cut was made in response to the route averaging two or fewer passengers per trip over the previous five years.
The Saskatchewan Association of Rural Municipalities noted they were saddened by the discontinuation of STC, which will disproportionally affect rural residents.
"While we're disappointed to see cuts to some important programming, we understand the immediacy of getting the budget under control during this economic downturn," stated SARM President Ray Orb.
The Canadian Cancer Society noted the STC shutdown is a concern for rural patients receiving cancer treatments. They do not currently know the impact of the service cut, but over the coming months they will be monitoring the situation talking to our clients and working with stakeholders to find ways to support cancer patients.
The opposition Saskatchewan NDP were also disappointed with the STC decision, arguing STC is an important Crown Corporation that provides a crucial service to people across the province who depend on it for traveling, accessing medical appointments, and shipping important packages.
"Less than a year ago, the then Minister responsible said STC is a 'needed service' and was safe from a sale," NDP Finance Critic Cathy Sproule said. "STC provides a vital service to many seniors, workers, and families throughout the province and, by scrapping it out of the blue and without asking permission of the owners – the Saskatchewan people – the Sask. Party is sending a clear sign, how little they care about protecting our Crowns like SaskTel."
The Saskatchewan Green Party argued the scrapping of STC services will isolate rural residents and seniors who depend on the service.  They would like to see STC expanded to provide transit service to bedroom communities like Martensville and Pilot Butte to increase ridership. Additionally, they call for more of the cheaper-to-operate minibuses to be deployed where appropriate.