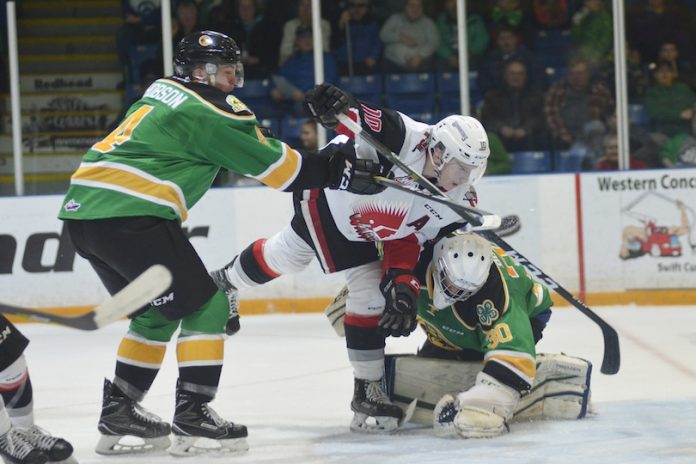 The Swift Current Broncos and Moose Jaw Warriors are set to meet in the Western Hockey playoffs for the first time since 1999. The East Division rivals finished only five points apart in the regular season, while the Warriors (42-21-8-1) held a 4-2 advantage in the season series over the Broncos (39-23-4-6).
"Physicality, number one I think," said Broncos' captain Glenn Gawdin when asked about the keys to the series following a 2-1 win over Moose Jaw Saturday. "We started doing that in this game and I thought the tables turned when we did that. We know they are going to do that to us. Playing smart and knowing that they have a lot of skill there, so trying to stay out of the box. Just play our game, we worry about ourselves and we will be alright."
"It should be a real good series," added goaltender Taz Burman. "We are real tight in the standings. We have had tight games all year. I expect a long, hard-fought series. It could go either way, but we're confident. We like the match-up. We think we can beat these guys. We know we can beat these guys. It's going to be a real tough series and we are going to have to bring our 'A' game."
The best-of-seven series will begin Friday and Saturday in Moose Jaw. The series will shift back to Swift Current on Tuesday and Wednesday for games three and four. Game five would be Friday back in Moose Jaw. Game six is slated for Saturday back in Swift Current. A seventh and deciding game, if necessary, would be played April 3 in Moose Jaw.
The Highway #1 series will feature two of the top goal scorers in the WHL. Broncos' sniper Tyler Steenbergen tied for the league lead with 51 goals, while Warriors' star Jayden Halbgewachs reached the 50-goal plateau on the final day of the regular season.
Import Aleksi Heponiemi led all WHL rookies with 86 points in 72 games for the Broncos, while Moose Jaw's Brayden Burke was one of the top set-up men with 63 assists and 82 points in only 61 games.
The goaltending battle will be crucial in the series. The Warriors are backstopped by Zach Sawchenko, who finished 30-14-6-1 with a 2.79 goals against average and a .917 save percentage.
The Broncos will reply with the veteran tandem of Jordan Papirny and Taz Burman. Papirny was acquired from the Brandon Wheat Kings at the trade deadline. He is a veteran of 49 playoff games but was out of the line-up for the final seven games of the regular season.
Burman, 19, filled in admirably for him down the stretch and finished with an 18-12-4-1 record, including four wins over his final six games to help the Broncos clinch third in the East Division.
"I have had the opportunity to play here, so I have just taken it game by game, just not looked too far in the future. I think things have gone pretty well. You always have to be ready. You never know when you are going to be called upon with what's happened here. I am just kind of taking it game by game and I am just doing my best out there," said the Vancouver native.
He said he will be ready if called upon to start the series.
"I think it is just the same as what I have been doing throughout the season. I prepare to play and if I do then I will do my best. If I don't then I will be ready if I am needed. That is kind of the life of a goalie, you just need to be ready to play and if coach says you're in then you are ready to go."
The biggest question mark heading into the playoffs remains the health of the Broncos. They were without number of key contributors down the stretch due to illness and injuries, including seven scratched players for their regular season finale on Saturday.
"I think we have dealt with it well," said Burman. "Obviously it is never ideal to see guys go down, but we have had some new guys come in and they have really stepped up and I think that is really important for a team. You can't win a series in the playoffs with just a line or two, you need everyone going. I like the way some of our younger guys have stepped up."
"We have gone through a lot of adversity, not just recently, but the whole year. We lost Grahamer [Ryan Graham], that's a huge thing for our team. I think we have responded great. We've got guys moving up and playing better and filling those holes. There's not much more you can ask for," added Gawdin.
Gawdin is the veteran of 10 playoff games and hopes to bring leadership during the post-season.
"It's not just myself with a lot of playoff experience. We have brought in Papirny and [Ryley] Lindgren and they have both been on good runs in their career, obviously Papirny last year winning the whole thing. I think all of us, we are just trying to take it day by day. After tomorrow's game we will just tell them how it is, it's a different kind of game in the playoffs, so we just have to ready for it."