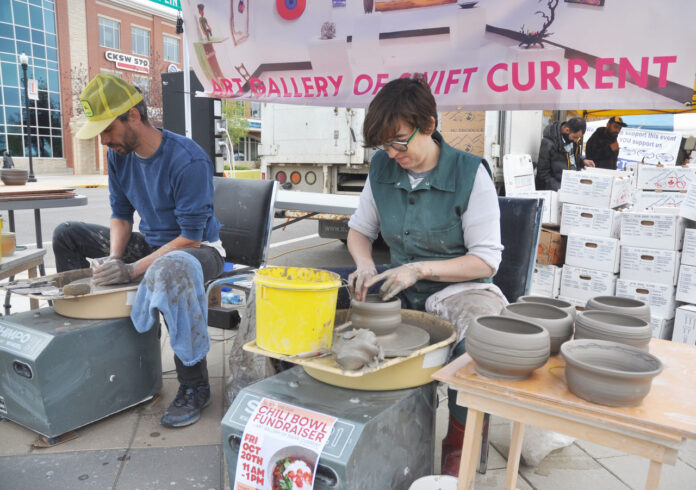 By Matthew Liebenberg
Anyone who loves pottery and chili can look forward to a new fundraising event in Swift Current that will give them both.
The Art Gallery of Swift Current's inaugural chili bowl fundraiser on Oct. 20 from 11 a.m. to 1 p.m. will offer chili in handmade ceramic bowls and afterwards people can take the bowls with them.
Art Gallery Director Terri Fidelak said the event is a way to raise funds for future programming and to connect with the community.
"It's just about opening the gallery to the community," she said. "We really want to invite people in who might not come to the gallery all the time or ever, and invite folks in to come have some lunch and look around the exhibition and just feel at home here. We figured that everybody likes a nice, chili lunch and most people like pottery. So it might be a nice way to invite folks in."
Funds raised from this event will be used to support new programming being planned by the Art Gallery.
"Our existing programming is great," she said. "We have lots of arts education classes and workshops and other opportunities, but we're really looking towards bringing in some artists and residents in the future. We'll be applying for grants to support those projects, but other fundraising is always helpful."
In addition, a portion of the proceeds from this fundraiser will support the Swift Current community fridge initiative, which assist individuals experiencing food insecurity.
"We're going to pay that forward and stock the community fridge with some food as well," she said.
The handmade bowls for the fundraiser were created with the help of community members. They participated in hand building and wheel throwing bees with Keely Williams and Jay Kimball.
"We've got a lot of local potters who've been really helpful in creating the bowls," Fidelak noted. "Keely Williams is one of our instructors in intro ceramics. She's been a big help. Also, Kayla Currie has done a lot of assistance in making bowls. Jay Kimball is a new local artist who's been making bowls. We've had a few workshops where people could come and hand-build or wheel-throw some more bowls to contribute. We've had quite a strong uptake of that and we're really grateful to everyone in the community who contributed to producing these bowls."
There will be a variety of bowls in different styles that people can choose from when they arrive for their chili lunch at the Art Gallery on Oct. 20.
"We'll have a big display of bowls set up," Fidelak said. "There won't be all 200 at once, just because we don't have the space, but we'll put out a good selection of bowls that people can choose from, and then we'll refresh as we go. There will be a lot of different styles of bowls available throughout the event, until they're all gone."
Williams and Kimball created some of these bowls during a pottery throw down held at the season finale of Market Square, Sept. 23. The clay for all the bowls came from Plainsman Clays in Medicine Hat.
Williams mentioned there were several steps during the process of creating these handmade bowls.
"We're trying to make every single one different so that people can pick and choose, and they'll all be different colours," she said. "And then people can pick what's going to go with their home or what they fall in love with."
The process began with the preparation of the clay, and then they were either hand build or thrown on a pottery wheel. The bowls had to dry completely, which can take a week or more, before going into a kiln for the first time.
The kiln-baked bowls were then glazed and thereafter it went back into a kiln for 10-12 hours for the glaze firing at a much higher temperature than initially.
"Then the kiln's got to cool for probably another eight to 10 hours, and then you unload it," she said. "There's lots of loading and moving the pieces around and all of that in-between."
Tickets for the chili bowl fundraiser are $25 each. It includes chili with toppings, a carb on the side, a beverage and a unique bowl. Tickets can be purchased before the event through the Art Gallery of Swift Current website.
"We have 100 tickets available on our website for pre-sale, and then the remaining 100 or so will be first come, first serve until we sell out," Fidelak said. "Getting a pre-sale ticket is a good idea if you really want to get a bowl, because otherwise you just have to get here early."
There will be seating available for people to sit down and enjoy their lunch, as well as an opportunity to visit the current exhibition in the gallery.
"The library is generously supporting the project and allowing people to sit at their tables in the back area as well as the tables that we'll have set up," she said. "So there should be seating for people. We're really hoping that people come out to support this."