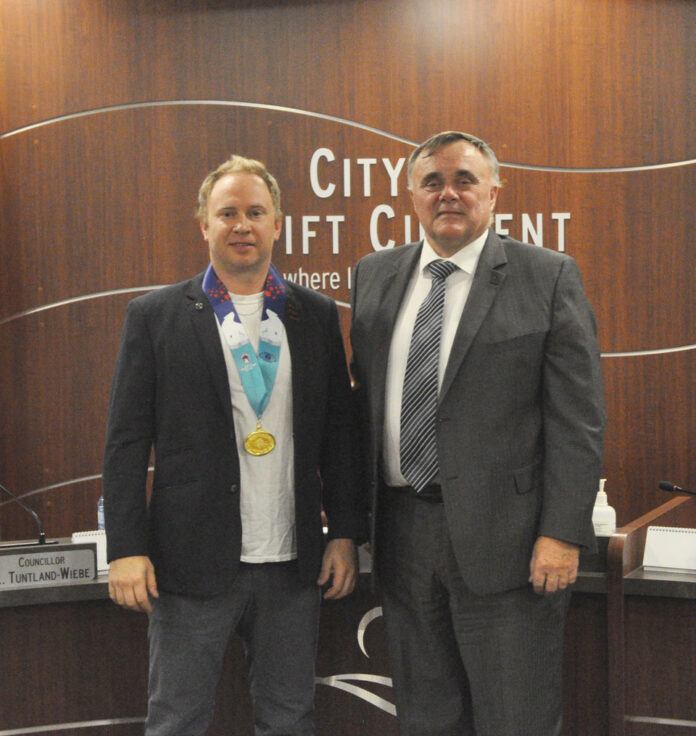 By Matthew Liebenberg
Swift Current firefighter Chris Haichert had a memorable experience at the 2023 World Police and Fire Games, and returned home with a gold medal in curling.
His achievement was recognized by City council members during a presentation at a regular council meeting, Oct. 2.
He thanked the members of council for inviting an "old washed-up curler" to come and talk about the experience.
"Well, I wouldn't call you washed-up, because you got a gold medal," Councillor Pat Friesen said in response.
The 2023 World Police and Fire Games took place from July 28 to Aug. 6 in Winnipeg. It is an Olympic-style competition and takes place biennially. Athletes competed in 63 different sports at this year's event.
"It's the biggest sporting event the province of Manitoba has ever put on," Haichert noted. "There were over 8,500 athletes from 60 or 70 countries. So it was a big event."
He curled with a team made up of firefighters from across the country. His teammates were Stephen Moss (Northwest Territories Office of the Fire Marshall), Frank McCourt (retired, Toronto Fire Services) and Gregg Tarasoff (retired, Saskatoon Fire Department).
"We were the oldest team in the entire competition and the oldest curler in the entire games was on our team as well," Haichert said. "So there's still hope for me into my ripe old age to continue on with it."
He added that it was an awesome experience to be a member of this curling team and to also meet people from across the world.
"I met with a retired guy who jumped out of helicopters in Brazil, putting out fires, and just listened to some of the things that they go through," he recalled. "I've talked to a lot of the guys that are dealing with a lot of the fires out west that we have here in Canada, and a lot of the stuff going on, and it's pretty humbling to speak to these people. It's a great group of people. I really look forward to that event when I have the opportunity to go."
He met the other three members of his curling team at a national firefighter curling championship in 2008 and they got along really well. They curled at the 2009 World Police and Fire Games in Vancouver, which was the last time the event was held in Canada before 2023.
"Won a silver medal that year, so it was nice," he said. "We had to wait 14 years later, but we avenged that and got our gold medal."
This year's gold medal was made even more memorable due to their win against a strong police team.
"We played the three-time defending national police champions in the final and it was very important," he said. "I've been in some big games in the Brier and some junior world championships, but this one ranked up there."
He expressed thanks towards the City for the excellent curling facility at the InnovationPlex that can produce some great curlers and where the local curling club can put on quality events.
"The City of Swift Current is a huge supporter of the curling club," he said. "You support what we're doing. So thank you for that. It really helps us and allows us to put on these showcase events, which are world-class."
Haichert is the general manager of the Swift Current Curling Club and he spoke about some major events that will be hosted by the club during the new season.
The 2023 Canadian Mixed Curling Championship takes place in Swift Current from Nov. 5-11. He noted that Curling Canada actually approached the club to ask if it will be interested in hosting this national event.
"It has a lot to do with a lot of good things we are doing at the curling club," he said. "So we're quite excited about that."
Haichert will be representing Saskatchewan in this event as a member of the 2023 Provincial Mixed Championship team skipped by Colton Flash and also including Swift Current curlers Teejay Haichert and Kelly Schafer.
The Swift Current Curling Club will be hosting the Nutrien Ag Solutions Western Showdown from Dec. 7-10, featuring top teams on the player's tour.
"That will be one of the largest international world curling tournaments in the world coming to our curling club," he said. "We're going to host the men and the women at the same time. We're offering $100,000 purse at that event, and it's caught the attention of all the top teams."