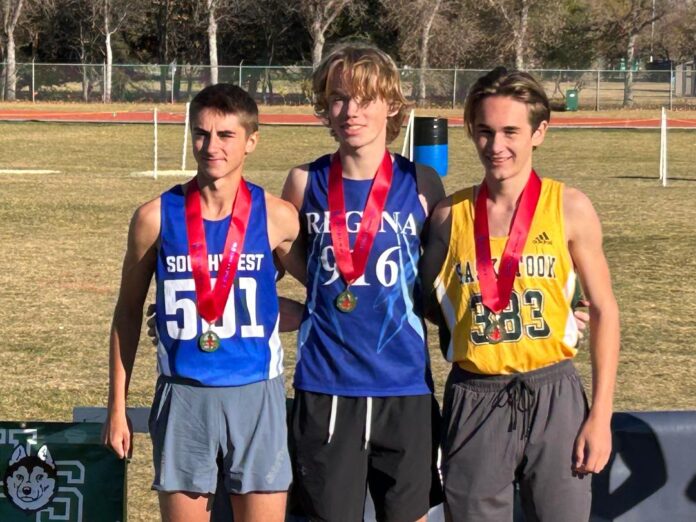 PROVINCIAL CROSS COUNTRY
SWAC had 18 athletes qualify for the provincial championship this past weekend in Regina, 16 of the runners were able to attend.
There can be up to 140 runners in each age group for each race. Vanguard School finished eighth in the 1A team category.
Congratulations to Colter Folk (SCCHS) who won the silver medal in the junior boys category. Colter is a repeat medalist, he won the gold in intermediate boys last year.
SWAC results:
Intermediate girls – Scotly Rogers (SCCHS) – 72nd, Kinley Pratt (Maple Creek) – 77th.
Intermediate boys – Wyatt Jahnke-Schafer (Maple Creek) – 96th, Grayer Routledge (Herbert) – 101st,
Junior girls – Rory Jorgensen (Vanguard) – 29th, Amy Anderson (Frontier ) – 30th, Keely Tuchscherer (SCCHS) – 37th,
Junior boys – Colter Folk (SCCHS) – 2nd, Jackson Tuplin (SCCHS) – 24th, Carson Williams (Maple Creek) – 46th, Gavin Johnson (Consul) – 72nd, Haakon Jolloien (Vanguard) – 97th.
Senior Girls: Isabelle Gottselig (SCCHS) – 12th, Hannah Ulm (Ponteix) – 35th.
Senior Boys: Jake Klassen (Vanguard) – 83rd, Ben Rousseau (Vanguard) – 97th.
SOCCER
The Moose Jaw Soccer League playoffs are now in full swing. In the quarter – finals (played in Moose Jaw), the Swift Current Colts defeated Notre Dame (3-0) on Tuesday, October 10th. The Colts moved on to the league semi finals and upset Yorkton Sacred Heart 4-2.
On Monday, October 15, the SCCHS Ardens will play Yorkton Sacred Heart in their first playoff game.
FOOTBALL
The final set of 9-man conference two league games was played on Friday. Shaunavon will finish second in the league because of a 42-0 loss to Lumsden in their last game. They will host Moose Jaw Vanier in the league playoff game.
Maple Creek defeated Gull Lake (13-9). Notre Dame, Maple Creek and Gull Lake all tied for the final playoff position. When the tie break procedure was applied, Gull Lake finished fourth in the league and will take on Lumsden in the playoff round.
12-man SCCHS Colts visited Moose Jaw Peacock for their last league game of the season. They lost a close contest (18-14). It had been tied up 14-14 in the fourth quarter, but two rouges and a safety were the difference. The Colts will host Estevan in the Tier 2 Championship game Saturday at 1 p.m.
JUNIOR VOLLEYBALL PLAYOFFS
Junior Sectional volleyball playoffs are finalized. Cypress Hills girls play Tuesday, October 24th (after school) in Leader.
All other playoffs are Saturday, October 28: Cypress Hills boys in Hazlet, Whitemud boys in Frontier, Whitemud girls in Eastend, Rolling Hills boys in Ponteix, Rolling Hills girls are either in Herbert or Vanguard depending on where they are assigned.
SENIOR VOLLEYBALL LEAGUE
Girls Results from Tuesday, October 10:
Maple Creek over Consul (25-16, 25-19)
Consul over Maple Creek (26-24, 25-23)
Cabri over Hazlet (25-20, 25-16), (25-22, 25-22)
Vanguard over Shaunavon (25-16, 25-14), (25-15, 25-10)
Frontier over Ponteix (25-18, 25-22), (25-17, 25-19).
Hosts on Tuesday, October 17- Ponteix hosts Shaunavon, Maple Creek hosts Hazlet, Cabri hosts Consul, Vanguard hosts Frontier
*League standings—all teams make a playoff tournament (top two in each pool go to the league championship final, bottom two from each pool go to a B side final).
POOL A
Maple Creek (21 pts)
Consul (11 pts)
Cabri (8 pts)
Hazlet (7 pts)
POOL B
Vanguard (22pts)
Frontier (19 pts)
Ponteix (10pts)
Shaunavon (0 pts)
Boys Results from Wednesday, Oct 4:
SCCHS 9/10 over Shaunavon (25-20, 19-25, 18-16), (25-21, 16-25, 15-6)
Frontier over Consul (25-23, 25-15), (25-19, 25-17)
Cabri over Herbert (25-10, 19-25, 15-6), (25-21, 25-13).
Hosts on Wednesday, October 18: Swift Current hosts Herbert and Frontier, Consul hosts Consul and Cabri
*League standings: top four make the playoffs
1st – SCCHS gr 9/10 and Frontier (tied with 24 pts)
3rd – Shaunavon (17 pts)
4th – Cabri (6 pts)
5th – Consul (5 pts)
6th – Herbert (2 pts)
The Chinook School Division Sports Report is submitted by Val Gordon