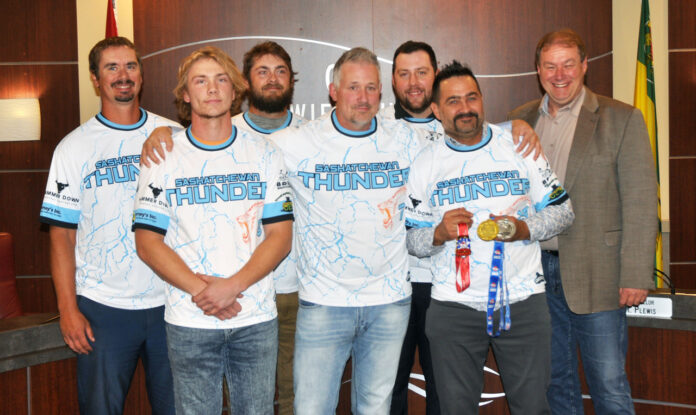 By Matthew Liebenberg
The success of a local slo-pitch team was highlighted during a presentation at a regular City of Swift Current council meeting, Sept. 5.
Members of the Swift Current Prides Thunder SPN men's slo-pitch team attended the meeting and spoke about their championship season as well as the reasons for the team's accomplishments on a national and provincial level.
The team remained unbeaten with an 8-0 record to win the Men's D Division at the SPN Slo-Pitch National Championships in Leduc, Alberta, Aug. 4-7. Prides Thunder player Conrad Funk received the most valuable player award.
"We did really well," Prides Thunder Coach Terry Mitchell said. "We're a pretty small town and when we go to these tournaments, we play big. We're getting to be really known in the national and provincial circuit."
This is the second time the team claimed a national title. They also won the D Division Slo-Pitch National Championships in Winnipeg in 2017. He noted the Prides Thunder is the only slo-pitch men's team from Saskatchewan to win a national championship.
"In the last five years we've won Saskatchewan Provincials slo-pitch at the highest competitive division you can win in and now we just repeated nationals for the second time in 2023," he said.
There are around eight players from Swift Current on the team and about seven from Kyle, Moose Jaw, Regina and Lumsden. This success is a result of a vision they had for the team going back to around 2013-14.
"We're a family," he said. "We're very unified and very strong in that. We won a lot of medals, we won a lot of tournaments. We've got a lot of accolades, but if we were all to sit here and say what really is more important, it's the heart behind those medals and those accolades. We're a very tight team."
Prides Thunder player Blaine Fehr felt the team's stability is a key part of their success on the field, because they do not have the same turnover as other teams.
"We stuck with the same guys and we've built through that," he said. "There are people that have been asked to be picked off our team and they say no."
He shares that same sentiment, because he is not interested to play for some random team where there is no loyalty.
"If I didn't play with this team, I wouldn't play any more," he said. "It would be done."
He felt the team's success is partly due to their strong defensive play and another key factor is the confidence of the players. The high turnover on other teams results in players being more nervous about losing their position.
"When you think that there's no loyalty there and you could lose your job to the next guy that's waiting to take it from you, they play a little bit more nervous, whereas our guys play a little more free," Fehr said. "And that's probably where our strength lies. We play a little more free that way and we have a bunch of guys that are good at their positions. We don't move around a whole bunch."
Mitchell said after the council presentation during a media interview that the lack of a local indoor training facility is a challenge to the team, because it makes it more difficult to prepare for the season during the winter. He felt it was the reason for the team's struggling performance at the start of the 2023 season.
"We started this year off 1-5," he noted. "We lost five out of six games and it was embarrassing. And the reason for that is these bigger centres like Calgary and Edmonton or even Toronto, they got all these places where they have facilities to play ball in. We don't have that."
The team is looking for more sponsorship, which will help them to realize a dream to qualify and compete at the Canadian championships. They actually wanted to do it this year, but it was held in Ontario and the cost to go for an entire week was just too high. The tournament will be hosted in Leduc in 2024.
"That's our biggest goal next year," he said. "We want to get to the point where we can qualify for the Canadians and then our biggest hurdle is sponsorship. … We're paying a lot of this stuff out of our pockets. We want to win the Canadians if we can. That's our main goal, but it takes a lot of money, a lot of time, a lot of effort."