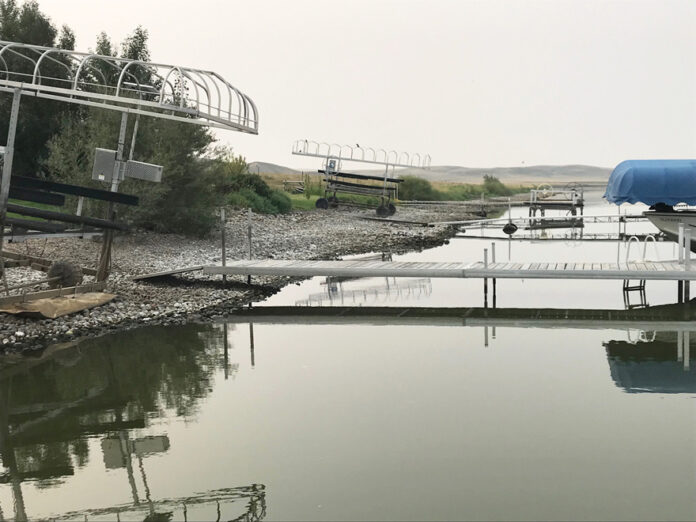 By Matthew Liebenberg
For the Southwest Booster
Concerns over the impact of a proposed irrigation development at Duncairn Dam on the water supply to Swift Current were addressed during a presentation at a regular City council meeting, Aug. 21.
A delegation of senior managers from the Water Security Agency (WSA), including President and CEO Shawn Jaques, made a presentation about the proposed new irrigation allocation from the dam to interested land users.
"This is the first of many presentations that we're going to give to stakeholders in the area," Jaques noted. "We recognize the importance of Duncairn Dam and our mandate is to manage the water for all the uses, whether it be municipal, recreational, agricultural, industrial. And so we're trying to balance the needs of all the people that are using that reservoir."
The presentation was made by WSA Director of Irrigation Development Joel Peru, who noted that interest in irrigation has been growing significantly in the province.
"Irrigation in Saskatchewan has become a very hot topic in recent years, mostly due to the drought and rising commodity prices," he said. "We've seen record numbers for development across the province."
A record amount of 15,200 new irrigated acres were added in 2022 and it is estimated that this number will be even higher in 2023 at 20,000 acres. There is currently a total of about 407,000 acres under irrigation in the province.
"We expect this number to steadily grow with the amount of interest that we're seeing across the province," he said. "So we're seeing a lot of districts expanding along the province, but we're also seeing a lot of larger private projects developed."
He mentioned that WSA's goal is to use water to drive economic growth and it is therefore looking for opportunities in Saskatchewan to develop irrigation.
"So we have a lot of different studies that are going on at different stages," he said. "A lot of them are composed of looking at the water supply, water quality, the land in the area for suitable irrigation development, and also making sure that producers in the area are actually interested in developing irrigation."
The WSA therefore carried out a water supply assessment in the Swift Current Creek basin and identified the potential to develop irrigation out of Duncairn Dam.
The dam was constructed in the early 1940s, which resulted in the creation of Reid Lake. The Swift Current Creek basin has been frozen to new developments since 1981 and the WSA assessment indicated there is water available in the reservoir for more irrigation.
"We looked at 98 years of data and ran models to determine how much water would be available without affecting any current licenses in the area," he said. "So what the results of this modelling found is that we could safely allocate 4,000 acre-feet from the reservoir without affecting any downstream licenses, municipal use, and maintain recreational use and wildlife use as well. And this is all keeping the same operating standards that have always been in place at Duncairn."
The conservation drawdown level will continue to be maintained at 2,637 acre-feet and new irrigation activities will be halted if the water level ever drops close to this mark in future. The dam's full supply level is at 807.72 metres and the conservation level or irrigation cut-off level will be reached when the water level drops down to 803.72 metres.
"One of the things that we need to be very clear to producers, if they plan to develop irrigation, is there's going to be very stringent monitoring requirements and restrictions," Peru said. "Everybody will be informed ahead of time and it'll be incorporated into their license that if levels ever reach that irrigation cutoff level in reservoir, it'll be required to stop. Even if it's July and they need the water, that's a very firm stop. We'll also be requiring the use of water monitoring technology to be installed in every pivot, and Water Security Agency will be tracking that water on a regular basis, monitoring it, and ensuring that all producers stay within their allocation."
City council members received assurances from WSA after the presentation that Swift Current's water allocation will remain unchanged. Jaques confirmed the City's allocation will not be touched.
"The work that Water Security did looking at this project is outside of what your allocation is," he said. "So that will still be there."
Kevin Wingert, the WSA director for operations and maintenance in the southern region, said the City's allocation is about 4,000 acre-feet. The dam's total capacity is 85,300 acre-feet and at the irrigation cutoff level there will still be 50 per cent of water or about 42,000 acre-feet in the reservoir.
"So there's still a lot of water in the reservoir," he said. "The City's allocation is what we call a firm draft. It's 100 per cent guaranteed. In terms of our operation, there really won't be any change in terms of how we're operating. … There's higher releases during those irrigation deliveries that are going on, but in terms of the releases that we have to the City, whether it's through the summer months or through the winter, there won't be any change in the operations."
Swift Current Mayor Al Bridal said during a media interview after the council meeting that the City's concerns over its water allocation were addressed by the WSA.
"We have an agreement with WSA for water and this agreement is iron clad," he said. "The City will get its water no matter what. And even if we went to the very low, low level and they had to cut off all irrigation and everything else, the City would still get the allocation."
The proposed availability of water from the dam for new irrigation will provide a potential opportunity to landowners in a seven-kilometre radius around the reservoir to grow irrigated crops. Bridal felt this will present an economic development opportunity for the region. He referred to Lethbridge in Alberta as an example of a community that benefitted from irrigation development.
"I would like to see jobs," he said. "We have a certain amount of oil and gas, but we all know where that's going, and so agriculture will be the way of the future. When I look at Lethbridge, which used to be the same size as us 70 years ago, I believe, and now Lethbridge is 112-113,000 people and we're under 17,000, and it's because of the irrigation."
The City requested the WSA to make the presentation at the council meeting after Bridal received several e-mails and telephone calls of concern about the proposed irrigation initiative. He therefore felt it is necessary for the WSA to get the facts out through different stakeholder meetings.
Several property owners from developments around Duncairn Dam attended the council meeting to listen to the WSA presentation. One of them was Dwight Lemon, who spoke the following day to this newspaper about his concerns.
He is a property owner at Sunridge Resort, which is located on the dam's east shore, where there are approximately 25 full-time residents. He said there are approximately 250 resort properties in five different developments around Duncairn Dam.
Lemon emphasized he is not against irrigation, but he has several concerns about the WSA proposal and its potential impact on existing water users and the ecosystem.
"If the lake was drawn down to the low water irrigation level, which is 803.72 meters, we would see a 10 feet 2 inch drop in front of our place," he said. "Now, that's not a horizontal drop. That's a vertical drop. … My dock would be high and dry, and I would have to go out probably another 20 feet to find water."
Information provided during the WSA presentation at the council meeting indicated that if all 4,000 acre-feet of new irrigation was taken off at once, the lake level will only go down by 0.32 metres or one foot. However, Lemon questioned that assertion in the presentation. He noted that water levels are already lower during summer months and taking more water for irrigation will have a noticeable effect.
"It's even more substantial in the middle of the summer when the lake is already dropping, because the lake gets narrower and deeper as you get into the centre of where the channel runs," he said. "They may have done a study, but I would guess that they don't know the depths of the body of water throughout the basin. Where the creek comes in on the south end and also at the north end, like most bodies of water, it's very shallow. So it doesn't take a big drop to exaggerate the shorelines."
He is also worried about potential implications for water levels in wells used by residents around the lake.
"That's another thing that hasn't been addressed," he said. "Everybody out here is on wells that depend on the lake level to provide water."
The irrigation expansion can potentially affect property values and future development at Reid Lake. He mentioned that the impact on the fisheries is another significant concern for lake users, because the lake is well-known for walleye fishing and the Shaunavon Wildlife Federation hosts an annual fishing tournament. He also wondered what lower water levels might mean for the quality of water supplied to Swift Current.
"Yes, there's still enough water to supply Swift Current, but it's going to be a much denser water," he said. "There's going to be more contaminants in it."
He felt the WSA assessment for the proposed irrigation expansion at Duncairn Dam did not adequately address environment impacts, which points to a need for further studies. Lemon also felt there is a need for broader consultation, for example a town hall meeting, instead of just stakeholder meetings.