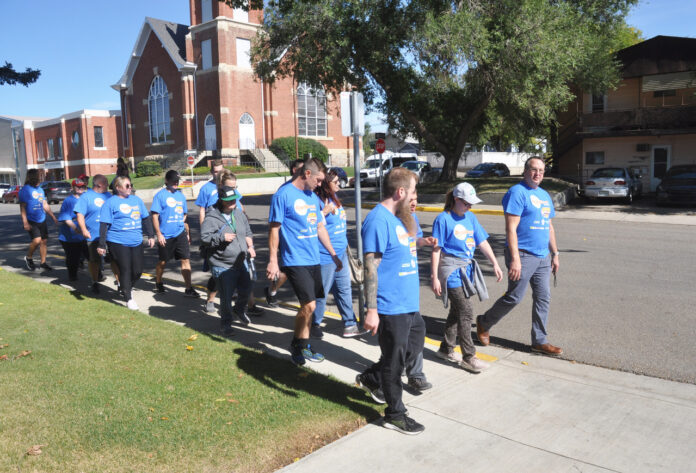 By Matthew Liebenberg
For the Southwest Booster
Everyone can become a hero without wearing a cape when they participate in the 4th annual Superhero Walk, Wheel, Run! to raise funds for SaskAbilities Swift Current.
This fundraiser makes it easy for participants to support youth and children experiencing disability.
They can make a difference by signing up wherever they are and start collecting pledges in support of an activity of their choice as an individual or a team.
SaskAbilities Swift Current Community Relations Coordinator Jenny Dyck said the event has continued to grow since it began in 2020.
"So essentially Walk, Wheel, Run! came about during COVID when we were unable to do our traditional in-person fundraising and it just caught on," she mentioned. "It's accessible and SaskAbilities as a whole provincially kind of took it under their wing as a provincial event."
The inaugural event drew wider attention and it became a provincial event for SaskAbilities in the following year.
"It flowered from our branch and went from there," she said. "It's really exciting and we're just proud of it, because we want to focus on accessibility, inclusivity and this event has all of that. Anyone of any ability can participate and join."
Superhero Walk, Wheel, Run! is officially scheduled for Sept. 15-25, but registration already opened in July to allow time for participants to register and organize, and to make use of summer days to carry out their activities.
The intention of this fundraising event is for participants to have fun while carrying out an activity of their choice for pledges. They can organize their own team relay event or they can track activities such as walking their dog or going for a family bike ride.
"There's so many people out just doing activities throughout the summer," she said. "So we certainly wanted to encourage making that activity count towards your Walk, Wheel, Run! fundraising. Technically the dates are between September 15-25, but people can get on board and make that activity count now."
Dyck added that participants are welcome to share details of their activities on social media and to tag SaskAbilities.
"We're absolutely encouraging people to take photos, take videos, and tag us in that activity so we can share it provincially across our social media channel," she said.
The SaskAbilities Swift Current branch is hosting a new event this year as part of Walk, Wheel, Run! The Fun Olympics, a fully accessible event for everyone, takes place at the oval track in Riverside Park from 1-4 p.m. on Sept. 23.
"We're just excited to get everyone together and celebrate the fundraising that's been done in an afternoon of fun," she said. "Our teams and participants are going to compete in an Olympic style game. This is an accessible event and it's mostly about fun. These games are just going to be a way to get involved, have some fun, and join in the Walk, Wheel, Run! camaraderie."
There will be two challenges during the afternoon to add some more excitement to the event. There will be a first responder challenge involving teams from the RCMP, ambulance service and Swift Current Fire Department as well as a realtor challenge involving realtors and brokerages. Participants will compete on Olympic style games and it will also be a competition about who can raise the most funds.
"And at the end, we will be crowning those winners," she said. "We have medals that we've had made. We've got Pioneer Co-op that will be there providing refreshments for everyone that comes out that afternoon. So it should be a lot of fun."
Funds raised through the 4th annual Superhero Walk, Wheel, Run! will support programs that provide youth and children experiencing disability with opportunities to participate in various outdoor and group recreational activities such as Summer Fun, Social Leisure Youth Program and Camp Easter Seal.
"It's going towards our youth recreational programming," Dyck said. "All of these programs that we offer are what we call unfunded programs. So they don't have any ongoing grants or government funding that goes towards them."
These programs have several benefits for participants, including increasing the self-confidence and self-esteem of participants, encouraging social skill development, and fostering community inclusion.
"We essentially spend our days on adventures," she said. "It's all community minded. It's growing their social skills. It's just them being part of the community."
For more information, to register or to donate, go to the Superhero Walk, Wheel, Run! website at www.walkwheelrun.ca