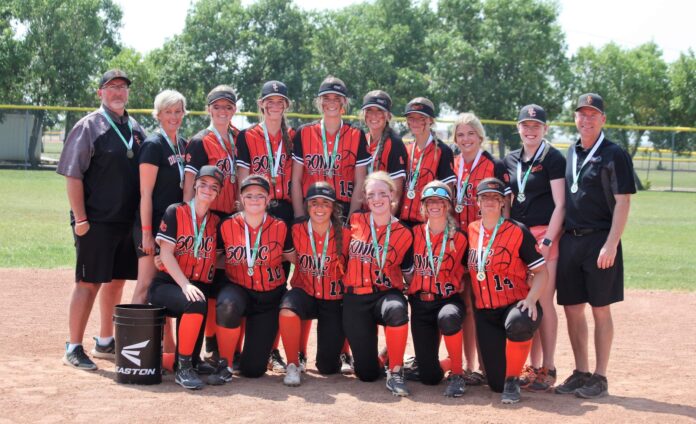 The Swift Current U17 Sonic softball team captured the Saskatchewan Softball U17B Provincial Championship title in Rosetown this past weekend. The Sonic finished the tournament with a perfect 5-0 record, scoring 55 runs and only giving up nine runs.
The U17 Sonic went 3-0 in their round robin games, defeating Macklin on Friday by a score of 10-0. Then on Saturday morning they faced off against Kindersley and won by a score of 6-4. Their Saturday afternoon game saw the U17 Sonic defeat the Saskatoon Lazers 9-2.
On Sunday, the U17 Sonic would play the Saskatoon Hustlers in the semi-final. In the top of the first inning Abbey Arntsen would make quick work of the Hustlers, retiring the side on 12 pitches. The Sonic bats proved to be too much for the Hustlers putting up 20 runs in the bottom of the first inning off eight singles, two doubles, a triple and two homeruns by Emma Murdoch. The Hustlers ended the game by forfeiting.
The final was a rematch with the Kindersley Royals. The Royals scored two runs in the top of the first, but the Sonic answered back with two runs of their own with a lead-off single from Murdoch, followed by doubles from Vegas Appel and Arntsen.
In the top of the second inning, some strong defensive play by Jordyn Cooper helped the Sonic hold the Royals to no runs, before putting five runs on the board making the score 7-2 for the Sonic. Brynn Watts started the rally with a single, followed by a double by Taylor Duncan. Then Murdoch hit a double to drive in two runs. Appel would then add to the Sonic lead hitting a two-run homerun. Arntsen hit her second double of the game and later scored the Sonic's fifth run of the inning off a single by Sami Wandler. Rayanne Fleischfresser and Kasey Jessiman also added singles in the bottom of the second inning, but the Sonic could not get them across home plate.
The Royals scored one run in the top of the third, making it a 7-3 score. In the bottom of the third inning Murdoch singled but was left stranded on the bases.
Arntsen cruised through the Royals batters in the top of the fourth, then Kasey Jessiman would add to the Sonic lead with a single, and a stolen base, scoring off a single by Watts.
The Sonic blanked the Royals in the top of the fifth and would get the offense going again in the bottom of the fifth, scoring two runs with consecutive singles from Duncan, Murdoch, and Appel, followed by Arntsen hitting her third double of the game.
The mercy rule came into effect and the final score ended 10-3. Arntsen picked up the win for the Sonic with a strong pitching performance to clinch the provincial title.