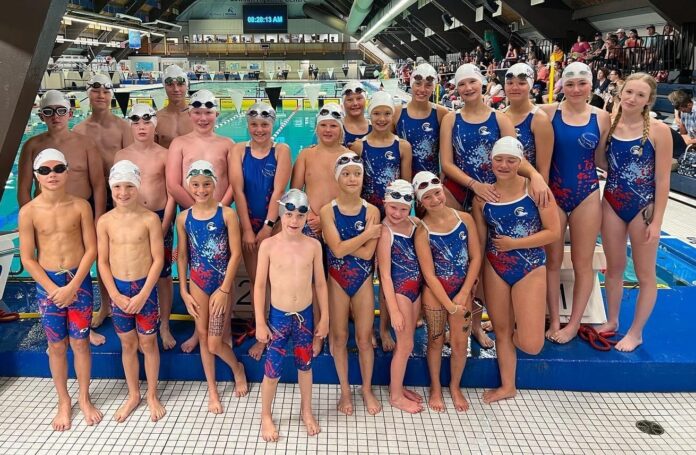 The ACT Swift Stingrays had 23 swimmers in the pool at the South Semi Finals in Regina on July 22. 21 of the swimmers qualified for Provincials, which will be held in Saskatoon on July 29-30.
Talyah Cuthbert led the way with gold in the 13-14 Girls Division. She erased her own 200 Metre Freestyle provincial record of 2:23.60 with a new mark of 2:22.24. She also set a new provincial standard in the 100 Metre Freestyle in 1:04.33.
Lincoln Moffitt was also a standout for the Stingrays as he won gold in the 9-10 Boys Division. Reese Holderbein added bronze in the 15-17 Girls Division.
Cole Allen
Male 13-14
4th – 200 Metre Free, 2:57.35
4th – 100 Metre Back, 1:37.05
6th – 50 Metre Fly, 36.63
6th – 100 Metre Free, 1:18.64
6th – 200 Metre IM, 3:24.12
Bronwyn Baan
Female 9-10
3rd – 100 Metre Breast, 59.24
5th – 50 Metre Breast, 59.24
11th – 25 Metre Fly, 29.91
11th – 100 Metre IM
20th – 50 Metre Free, 55.82
Drew Cuthbert
Male 9-10
3rd – 25 Metre Fly, 28.91
3rd – 100 Metre IM, 2:04.33
5th – 50 Metre Free, 47.08
Saylor Cuthbert
Female 11-12
3rd – 200 Metre IM, 3:53.78
4th – 50 Metre Breast, 55.34
5th – 100 Metre Breast, 1:57.75
6th – 25 Metre Fly, 23.50
11th – 50 Metre Free, 43.73
Talyah Cuthbert
Female 13-14
1st – 200 Metre Free, 2:22.24
1st – 200 Metre Back, 2:49.47
1st – 100 Metre Free, 1:04.33
1st – 100 Metre Back, 1:17.33
1st – 200 Metre IM, 2:48.22
Sophia Dyck-Funk
Female 11-12
3rd – 200 Metre Free, 3:41.85
5th – 50 Metre Breast, 56.41
6th – 100 Metre Back, 1:51.39
6th – 50 Metre Fly, 57.81
10th – 100 Metre Breast, 2:28.26
Isabella Green
Female 9-10
5th – 50 Metre Back, 55:29
8th – 25 Metre Fly, 26.90
9th – 100 Metre IM, 2:08.79
12th – 100 Metre Free, 1:56.86
13th – 50 Metre Breast, 1:07.31
Maddox Green
Male 7-8
6th – 25 Metre Free, 25.87
7th – 50 Metre Back, 1:11.75
8th – 50 Metre Free, 59.85
8th – 25 Metre Back, 35.86
Boston Holderbein
Male 9-10
1st – 100 Metre Back, 1:50.36
1st – 50 Metre Back, 49.24
3rd – 50 Metre Free, 44.54
Reese Holderbein
Female 15-17
1st – 50 Metre Fly, 35.57
2nd – 200 Metre Free, 2:54.73
3rd – 100 Metre Free, 1:15.67
3rd – 200 Metre Breast, 3:37.71
3rd – 200 Metre IM, 3:15.11
Shea Holderbein
Female 13-14
5th – 200 Metre Breast, 3:49.07
9th – 100 Metre Breast, 1:48.00
13th – 100 Metre Free, 1:34.15
15th – 50 Metre Free, 43.06
16th – 50 Metre Fly, 1:00.06
Peyton LaFontaine
Female 15-17
3rd – 100 Metre Breast, 1:42.37
4th – 200 Metre Breast, 3:39.43
5th – 100 Metre Free, 1:25.22
5th – 50 Metre Free, 37.16
7th – 100 Metre Back, 1:38.23
Kason Moffitt
Male 11-12
3rd – 50 Meter Fly, 53.73
3rd – 200 Metre IM, 3:58.28
5th – 200 Metre Free, 3:25.78
6th – 100 Metre Breast, 2:06.96
9th – 25 Metre Fly, 22.82
Lincoln Moffitt
Male 9-10
1st – 100 Metre Free, 1:30.59
1st – 50 Metre Fly, 56.50
1st – 50 Metre Free, 39.83
1st – 100 Metre IM, 1:44.33
3rd – 50 Metre Breast, 55.45
Savannah Moffitt
Female 7-8
1st – 100 Metre IM, 2:13.50
2nd – 25 Metre Breast, 31.54
3rd – 50 Metre Breast, 1:12.58
4th – 25 Metre Fly, 33.11
4th – 25 Metre Back, 27.90
Declan Newton
Male 15-17
2nd – 50 Metre Free, 29.98
3rd – 100 Metre Breast, 1:27.85
3rd – 100 Metre Fly, 1:23.46
3rd – 200 Metre Breast, 3:14.65
3rd – 200 Metre IM, 2:55.30
Taiyah Reinhart
Female 15-17
2nd – 100 Metre Breast, 1:28.97
2nd – 200 Metre Breast, 3:14.88
3rd – 50 Metre Free, 35.34
4th – 50 Metre Fly, 39.01
4th – 200 Metre IM, 3:21.98
Lachlan Rempel
Male 11-12
4th – 200 Metre Free, 3:24.47
4th – 200 Metre IM, 3:59.08
5th – 100 Metre Back, 1:52.74
8th – 50 Metre Breast, 56.92
Jett Schafer
Male 7-8
1st – 50 Meter Free, 39.82
1st – 50 Metre Fly, 1:01.41
1st – 25 Metre Free, 18.63
2nd – 100 Metre IM, 1:57.16
3rd – 25 Metre Fly, 26.80
Violet Schafer
Female 11-12
4th – 50 Metre Free, 38.81
8th – 50 Metre Back, 51.25
8th – 100 Metre Free, 1:34.91
9th – 100 Meter Back, 2:00.03
Emma Shipley
Female 9-10
13th – 50 Metre Back, 1:02.13
14th – 25 Metre Fly, 47.22
15th – 100 Metre Free, 2:25.91
23rd – 50 Metre Free, 1:04.33
Mya Shipley
Female 13-14
5th – 200 Metre Back, 4:03.00
10th – 200 Metre Free, 3:29.66
13th – 100 Metre Back, 1:54.46
16th – 100 Metre Free, 1:38.73
17th – 50 Metre Fly, 1:00.58
Hudson Ward
Male 11-12
7th – 50 Metre Breast, 56.04
7th – 100 Metre Breast, 2:12.89
8th – 100 Metre Free, 1:44.94
9th – 50 Metre Free, 45.13
13th – 25 Metre Fly, 28.19