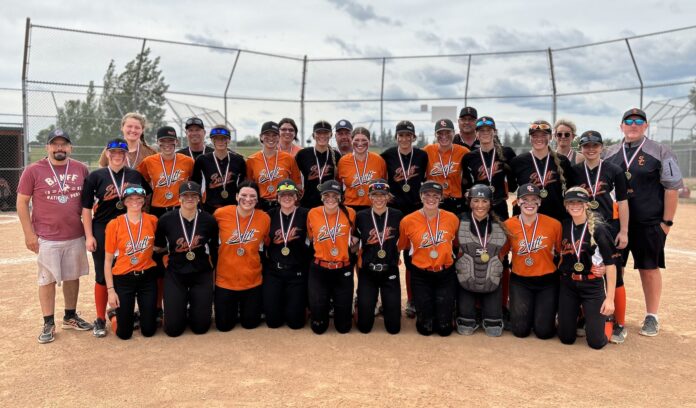 Swift Current hosted the U17/U19 Sandhills Softball League final tournament, which featured five teams competing for the league title on June 24.
Shaunavon, Maple Creek, Gull Lake, Swift Current U19 Giants and the Swift Current U17 Orioles all were on contention on the final weekend.
The championship game was a matchup between the two Swift Current teams. The U19 Giants earned a spot in the final by beating the Gull Lake Greyhounds 14-3, and the U17 Orioles advanced to the final with an 18-5 win over the Maple Creek Red Sox.  
The two Swift Current teams split wins in regular season play, so everyone anticipated the final game was going to be an exciting game and the fans were not disappointed.
In the final, the U17 Orioles got out to an early 3-0 lead, scoring one run in each of the first three innings of play. The U19 Giants responded in the top of the fourth with a double by Brynn Smith who later scored making it a 3-1 game. The U17 Orioles answered back with a home run by Addison Longmore to make the score 4-1 after four complete innings. 
In the fifth inning the U19 Giants added another run to make it 4-2, then in the sixth inning Paris Appel hit a two-run home run to tie the game at 4-4. Emma Murdoch led off the bottom of the sixth inning for the U17 Orioles with a double and would later score what would prove to be the winning run off a single by Rayanne Fleischfresser.  
The U17 Orioles made a couple good defensive plays in the top of the seventh inning to close out the 5-4 victory.
Abbey Arntsen was the winning pitcher with a strong performance, recording 11 strikeouts over seven innings. Reagan Gooding and Becca Marshall shared the pitching duties for the U19 Giants, recording three strikeouts each.