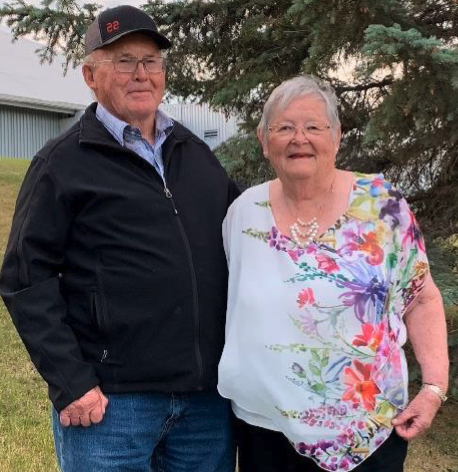 Swift Current Ag and Exhibition Association
The Swift Current Agricultural and Exhibition Association announces the 2023 Frontier Days Parade Marshals – Doug & Maxine Smith.
It's that time of the year again, Frontier Days 2023 – Steers & Cheers for 85 years With this being a milestone, we decided to honor not just one, but two parade marshals this year. A wonderful community-inspired husband and wife team, celebrating their 59th wedding anniversary this August… Doug and Maxine Smith.
Born in the winter of 1939, right here in Swift Current, Cecil Doug Smith has been an Honorary Lifetime Member of the Swift Current Ag & Ex since 1986, as well as a member of the Saskatchewan Simmental Association since 1970. His life has been full of farming, horses, sports (as an competitor as well as a coach), and community involvement. He has sat on the Ag & Ex Board of Directors as Vice President in 1982 and President in 1983-84, and was also the Chairman of the Lighthorse Committee from 1972-1990. Doug's favorite lighthorse event is the Western Reining. 
Doug is an old-school cowboy. He travelled to school in Bigford by horseback every day, with his siblings by his side. Today, Doug lives on his grandfather's homestead, which was established in 1905. Doug began attending Frontier Days with his grandfather in 1947, back when there was only one barn on the grounds and they slept in tents. Doug's grandfather organized the first lighthorse show at Frontier Days with only 5 entrants, and the Smith family watched it grow over the years and often competed as well.
During his life, Doug gained experience in the fields of construction and welding and also became a licensed A.I. technician. Doug strongly believes in the importance of youth, team building, and promotion of agriculture in our community, as demonstrated in groups like 4-H.
In 1962 at a summer dance in Stewart Valley, a lovely lady in a red dress caught Doug's eye… At 21, Maxine (originally from Hazlet) entered Doug's life. Two years later, they were married and have been attending Frontier Days together ever since. Maxine has been a volunteer in various positions with Frontier Days and Doc's Town, baking and winning trophies for her creations. She was involved with 4-H and the Woman's Institute. In 1991 she decided to volunteer at the Tea Room in Doc's Town. Maxine worked for 20 years as a dedicated LPN, travelling the 25 miles through all kinds of Saskatchewan weather to do her shifts every day. Her favorite post was at the Palliser Regional Care Centre.
Doug and Maxine have raised three sons and one daughter together Mike, Lyle, Carl, and Lori, who have gone on to gift them eight grandkids and four great-grandkids, all of whom enjoy
Frontier Days as much as Doug and Maxine. These days, Doug and Maxine enjoy family time and are quite content living their best life on the homestead.
THEY have spent a lifetime giving back to their community, and have this advice to give: Be kind, be honest, be yourself. Work hard and never be afraid to lend a hand.
Doug and Maxine look forward to seeing everyone at Frontier Days Kick-off Pancake Breakfast with the Burning of the Frontier Days Brand on Wednesday, June 28 at 7:30 a.m. in Market Square – and along the parade route on Friday, July 1 .