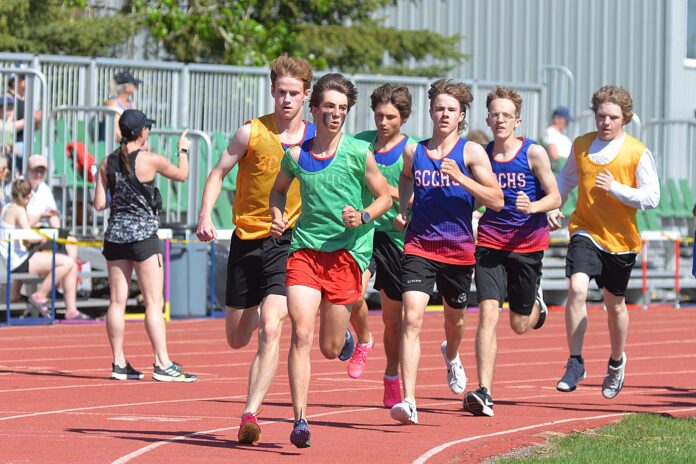 A total of nine new records were established at the SWAC Blue Section Track and Field Meet on Tuesday.
Swift Current Comp. Colts rookie Colter Folk ran down a pair of records in the Intermediate Boys Division. He established a new standard in the 1,500 Metre Run in 4:40.15. Folk also set a record in the 3,000 Metre Run in 10:27.40.
The SCCHS Colts added a record of 46.56 seconds in the 4×100 Metre Relay as well.
The other seven records came in the Bantam Divisions, including a pair from All Saints Catholic School's Emily McCleary. She set a Long Jump record at 4.63 metres. McCleary added a Triple Jump record of 9.17 metres.
Kyler Duclos, also representing the All Saints Guardians, set a new Bantam Boys Long Jump record at 5.54 metres. He added a Triple Jump record of 11.60 metres.
Laynee Rondeau continued the Guardians' Bantam dominance with a new 800 Metre Run record in 2:39.78.
The final record came from the All Saints Guardians in the Bantam Boys 4×100 Metre Relay in 52.38 seconds.
Rondeau claimed the Bantam Girls Division with the maximum 40 points. Vinnie Griffiths topped the Bantam Boys Division with 34 points.
The Ardens' Layla Thiessen topped the Intermediate Girls Division with 34 points.
Paxton Wallace and Jackson Tuplin, both from SCCHS, tied for the Intermediate Boys title with 34 points apiece.
Isabelle Gottselig and Dani Meyer, both representing the SCCHS Ardens, tied for the Junior Girls Division title with 40 points each.
Three members of the SCCHS Colts tied for top spot in the Junior Boys Division. Elijah Siemens, Derric Dulatre, and Rowan Reimer all finished with 36 points.
The Ardens' Amara Gatzke and Gull Lake's Brynne Leppa tied for the Senior Girls Division title with 30 points each.
Kaleb McBurney won the Senior Boys Division with 37 points.
The SWAC White Section Meet was postponed on Wednesday, but is now rescheduled for Friday in Swift Current.