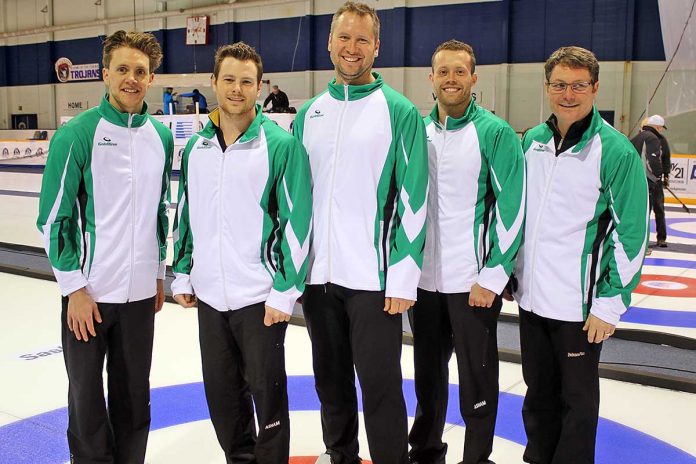 After seven trips to provincials in Alberta, and five more in Saskatchewan, Cabri's Shaun Meachem will be making his debut at the 2017 Tim Horton's Brier in St. John's Newfoundland on March 4-12.
Meachem, 37, is playing second on Team Casey, skipped by Adam Casey, and supported by lead Dustin Kidby and third Catlin Schneider as they represent Saskatchewan at the Brier.
Team Casey won the 2017 SaskTel Tankard Men's Provincial Championship in Tisdale when they defeated three-time defending champion Steve Laycock on Feb. 5.
Meachem and Schneider played together last season and made it all the way to the provincial final, and this season they teamed up with Casey and Kidby for a run at the championship.
"We had some roster moves throughout the year to try and get the team to gel a little better and get everybody in a position where they can help the team out the most and provide the most support for the team," Meachem explained, adding that it took a while to gel and that the team struggled for the first two-thirds of the season.
Meachem eventually returned to his more familiar spot at second after skipping last season.
"For me to drop down, I knew that I could bring a lot to the table at that position. Adam has some good skipping experience at the Brier and whatnot. It just felt like the right move to make being that things weren't working the way we were doing it."
The Casey and Laycock rinks went head-to-head three times at the Tankard. Laycock won the opener 6-5 in an extra end.
"We actually curled really well the first game that we played them. We had several chances to beat them, even right up to the last end we had a really good chance for two up until Steve's last or second last shot. We had a hit and roll to lay two and he would have been pretty much toast. We nosed it and left him a double and he made it and then we lost in the extra end. We walked away from the game feeling we played well enough to win that game."
Casey replied with an 8-5 win in the 1v2 playoff.
"We actually didn't play quite as well as we had in the first game as a team. They didn't play quite as good either and we won that game and felt pretty comfortable. It worked out good that the final was kind of a rubber match because it can be hard to beat a team three times in a row when you have to play them over and over again."
The two teams met for a third time in the championship final with a spot at the Brier on the line. Casey opened with the hammer and scored three points and then added three more in the third end for a 6-1 lead. They put the game away in the fourth end with a steal of three on their way to an 11-3 in eight ends.
"They just made a few mistakes. We weren't putting a tonne of pressure on them. We just were playing well. They weren't in huge trouble but they had a little miss here and there and then we made something good. A couple of threes weren't set up for three and we got a miss and took advantage of it."
The Casey rink spent the final few ends just trying not to get ahead of themselves, as a trip to the Brier quickly became a reality.
"It was a little bit anticlimactic because the game was kind of over awhile before it was actually over. It was a little bit different feeling when you are just trying to keep yourself calm and stay focused and stay in the game to not make a mistake and let them back in. We spent quite a few ends that way, so when we actually got to the end of the game you had spent so much time trying to keep yourself calm that it wasn't a huge celebration like someone had made a big shot to finish off a game," he added.
Despite the relatively drama-free championship game, the team did face some unexpected adversity along the way.
Kidby slipped while sweeping in an early game and tried not to burn the rock. Using his broom to hold himself up he popped his shoulder right out, completely dislocating it.
The Casey rink played the final few ends of a very close game with only three players, yet still managed to win.
Swift Current's Jeff Chambers, the team's alternate, played the next game as Kidby recovered before returning for the rest of the tournament.
"The following day he said he felt pretty good, he went out on the ice and tried it out. He had a hard time lifting his arm up over his head, but down low, that sweeping motion, he was able to sweep to full capacity without any real problems, at least he said so. I think he was probably hurting a little more than what he probably let on. I don't think you could have kept him off the ice if his arm was laying on the sidewalk," explained Meachem.
The Casey rink had the opportunity to add Pat Simmons to their rink for the Brier.
"He just brings so much experience. He has been to so many Briers and World Championships. Jeff [Chambers] has worked with us quite a bit this year and he was a huge part of our team turning around, so it was a little unfortunate the way that it worked out because he has been such an integral part."
"There are some really critical roles throwing-wise that your coach and your fifth man take on at the Brier with matching rocks and figuring out the sheets. They are allowed to go out the night before and practice on your game sheets so they have a really important role in matching rocks," explained Meachem.
This will be Meachem's first trip to the Brier. He has attended one national championship before, the 2014 Canadian Mixed Curling Championship, advancing all the way to the final.
"I feel like having that experience and having that experience in the Grand Slams that we have played in and the amount of curling that we have done this year we feel pretty prepared for things. If we can just keep curling like we have been then we will be in contention there," he said.
His skip, on the other hand, has curled in five Briers. Casey previously played with Brad Gushue before skipping a team out of Prince Edward Island. Meachem noted that Casey will be one of only five individuals in Canadian curling history to qualify for the Brier in three different provinces.
Saskatchewan will open the tournament on Saturday against Manitoba's Mike McEwen.
"It had been a bit of a rough season for us. Our last three World Curling Tour tournaments we played in we started playing pretty good. We felt good going into it. You try and you try and struggle for so many years and you get close. Then to finally get the win is almost hard to believe. You don't really know how to feel about it," he laughed.