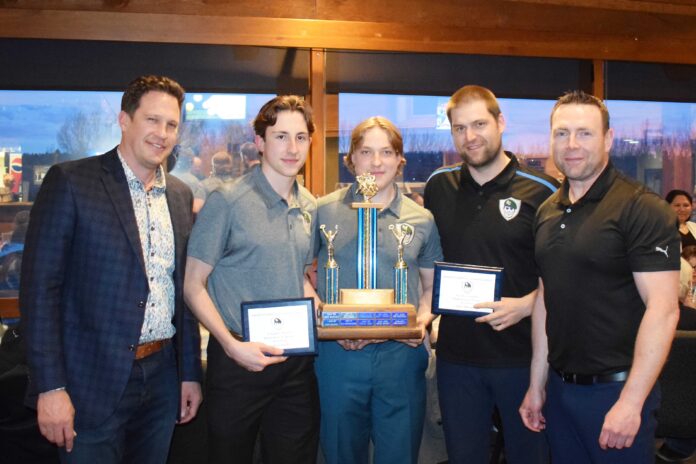 The Swift Current Home Hardware Legionnaires gathered on Tuesday to hand out their team awards and celebrate the 2022-23 season.
The Legionnaires had a resurgent season as they finished with a 25-15-4 record in fourth place in the Saskatchewan Male U18 AAA Hockey League standings. They were eliminated in five games by the Warman Wildcats in the opening round of the playoffs.
Captain Hudson Darby was named the Most Valuable Player and was the co-recipient of the Coaches' Choice Award. The Portland Winterhawks prospect finished the season with 16 goals and 18 assists in 32 games. He added two goals and three assists in five playoff outings.
Rookie Cobe Perlinger led the Legionnaires with 21 goals and 46 points in 42 games to win the Top Scorer Award and also took home the Most Game Stars Award.
Local defenseman Theo McGuire shared the Coaches' Choice Award and was named the Players' Choice Unsung Hero. The Swift Current product finished with four goals and 10 assists in 29 games before an injury cut his season short.
Complete award winners were as follows:
Rookie of the Year – Berney Weston
Top Defenseman – Jhett Lamb
Most Improved Player – Owen Latendresse
Scholastic Award – Keelan Mansuy
Most Game Stars – Cobe Perlinger
Top Scorer – Cobe Perlinger
Players Choice, Unsung Hero – Theo McGuire
Coaches' Choice – Hudson Darby and Theo McGuire
Most Valuable Player – Hudson Darby