SHSAA SENIOR BASKETBALL PLAYOFFS
Big thanks to our Regional Basketball host schools (Herbert and Maple Creek). It is a lot of work to put on a regional tournament. With it being a four-day weekend for Chinook schools, it would have been even more of a challenge to find workers for games, booths and gates. Well done!
Shout out to our SWAC basketball officials. SWAC has a serious shortage of basketball officials. We are always looking to that small group of officials to help out throughout the basketball season. I've heard of officials doing over 80 junior/senior basketball games this year. We appreciate all you do so that school sport can happen.
SHSAA 1A – 5A classifications are based on school enrolments grade 10-12. SWAC had teams in all the classifications except 4A. In each of the 1A-3A classifications there were four regional basketball tournaments held. The winners from each tournament advance to Hoopla (SHSAA provincial basketball championship). You had to win all games to move one, one loss put you out of contention for a spot at provincials. Teams are put into a regional tournament based on their provincial seeding.
#4 ranked 3A Maple Creek Rebelles hosted a Regional Playoff. They won easily against #13 Moosomin on Friday night (61-41). The Rebelles then played #5 Unity for the regional title. The game was very close in the first half, but Unity made some adjustments at half time and pulled away to a 58-41 victory. Maple Creek's season ended with that loss.
2A Herbert Laurel boys, who were ranked #12 in the province, played at home. They battled the #5 seed Paradise Hill in the first round. It was an excellent game, but Herbert came up short and lost 84-72. That dropped Herbert to a consolation game on Saturday. The boys rebounded in their final game of the season and beat #13 Foam Lake (83-56).
3A Shaunavon Shadows were in Regina as the #7 ranked team. They won their first game 78-66 over #10 Creighton. That put them into the Regional final against #2 ranked Regina Christian. The Regina team was just too strong for the Shadows and they lost 89-49 to end their season.
There are only twelve 1A boys teams in the province. They all met in Saskatoon to determine which four would advance to HOOPLA. The 1A Vanguard Valkyrs boys team (ranked #5) had a heartbreaking first round game against #13 Allen. The Valkyrs gave it their all, but lost 60-57. There were no consolation games in the 1A boys category, so Vanguard's season was done.
The 5A classification is arranged a bit differently. Saskatoon and Regina have leagues that determine their HOOPLA qualifiers. Teams outside those cities took part in an eight-team Rural Regional tournament hosted by Lloydminster. The SCCHS Ardens were the #1 seeded 'rural' team in the tournament. They defeated #8 Estevan 104-37 on Friday night and the beat #4 Moose Jaw Peacock 70-34 on Saturday morning.
The Ardens played the Regional final against #3 Prince Albert St. Mary on Saturday night. The Swift Current squad continued their dominance with a 76-44 win. The Ardens are off to HOOPLA and are considered one of the strongest teams in the province.
SHSAA PROVINCIAL WRESTLING
The SCCHS Arden/Colt wrestling team took part in the SHSAA Provincial Championship in Regina on the weekend.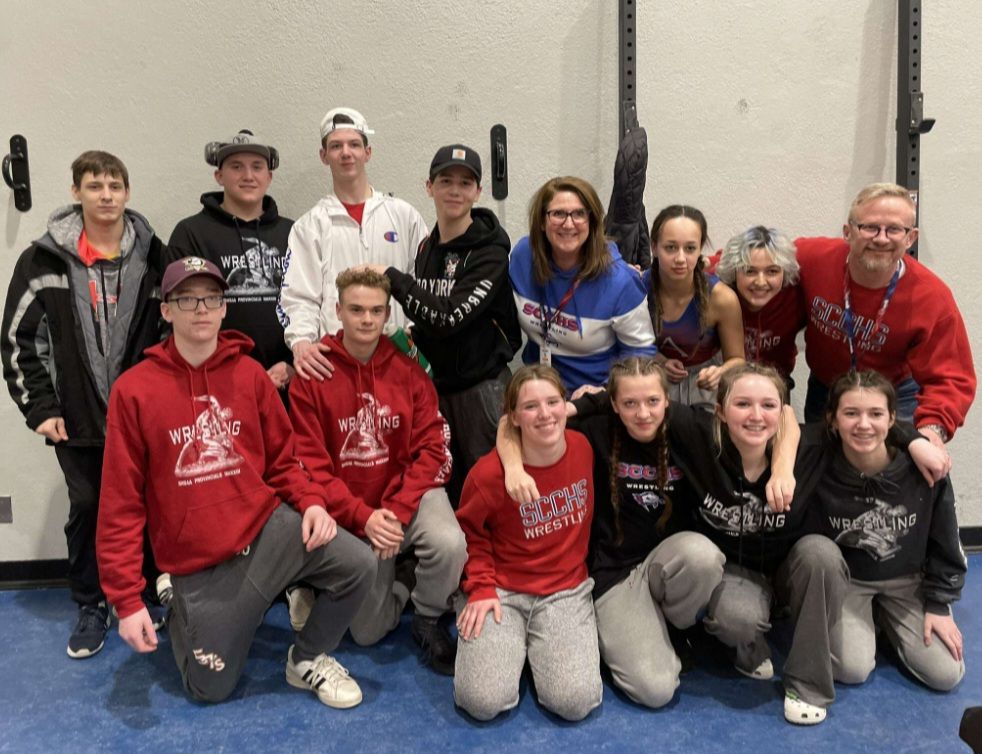 Athletes participating were: Colton Koethler, Keyanna Ginter-Bennet, Brooklyn Hir, Waylan Ratzlaff, Titus Erick, Dakota Hurl, Kaylin Read, Nicole Pelltier, Ella Toles, Rece Schindel, Emmit Wiebe, and Chaz Vanderdort.
Two Colt wrestlers finished in the top five. Chaz Vanderdort placed fifth in the 69 kg classification and Titus Erick finished in fourth place (loss in the 65 kg bronze medal bout).
Arden wrestlers Brookly Hir (50 kg) and Ella Toles (68 kg) didn't make the medal rounds, but they won their consolation matches to finish fifth in the province.
The Chinook School Division Sports Report is submitted by Val Gordon