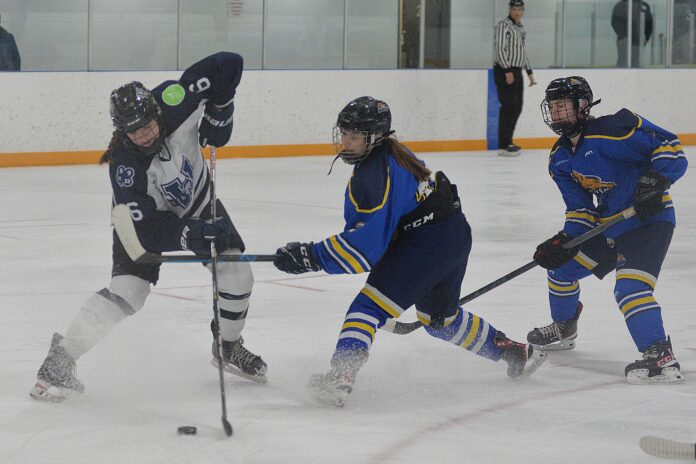 The Swift Current Innovation Credit Union Wildcats played two exhibition games against the visiting Westman Wildcats over the weekend in preparation of the Saskatchewan Female U18 AAA Hockey League playoffs.
Saturday, the Wildcats won 4-1 led by two goals from Calla Kampen and 25 saves from Karlee Lehner. Call-ups Brooklyn Schmaltz and Raela Packet also scored in the win. Addison Eurich and Kylee Hansen each registered two assists, while Olivia Kirwan and Kaylee Williams chipped in single helpers.
The Wildcats finished one-for-two on the man-advantage and killed off all five shorthanded situations.
The Wildcats followed up with a 6-2 win on Sunday when Kirwan led the attack with two goals and one assist. Lehner earned the win with 26 saves on 28 shots. Call-up Ella Rublee stopped all 11 shots she faced.
Dior Stringer and Tess Bakus each had two-assist outings. Williams and Eurich both finished with one goal and one assist. Kyla Benjamin and Cydny Price also scored. Evangeline Hill, Packet, and Amiyah Jones all added assists.
The third place Wildcats (17-9-4-0) will now take on the sixth-place Weyburn Goldwings (4-24-0-2) in the opening round of the playoffs.
The Wildcats will be led into the playoffs by the dominant goaltending tandem of Karlee Lehner and Paige Fischer. Lehner led the league with a 1.35 goals against average and a .955 save percentage. She was second with 12 wins and five shutouts. Fischer had a 2.21 GAA and a .925 save percentage.
Caitlyn Perlinger is among the league's top defensemen after she finished with nine goals and 16 assists in 30 regular season games.
Jerzey Watteyne finished second in the league with 26 goals and was fourth with 43 points in 30 games. Sadie Keller was ninth in league scoring with 35 points.
Weyburn features Julianne Girardin (Meyronne), Addison Longmore (Swift Current) and Paisley Arntsen (Swift Current). The series will begin on Friday at 8 p.m. in Swift Current. Game two will be Sunday back in Weyburn. Game three, if necessary, would be Tuesday in Swift Current.