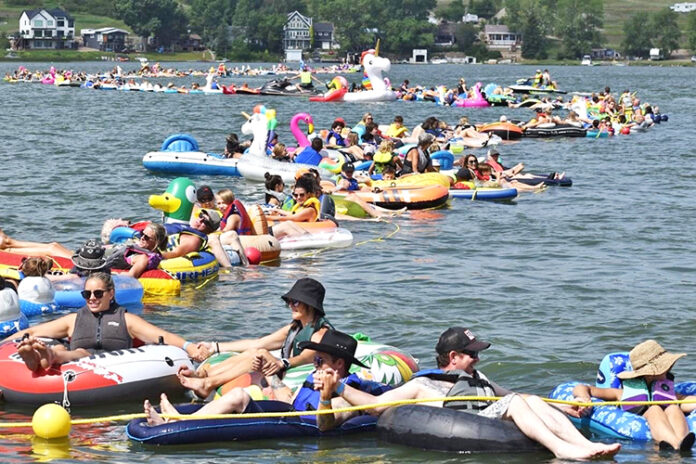 Lac Pelletier Regional Park has learned they have official set a new Guinness World Record for the longest line of water inflatables.
After over five months of waiting since their summer attempt, Lac Pelletier Regional Park has received official notification that they are the holder of the Guinness World Record for the longest line of water inflatables at 358.7 metres.
Participants took to the water at Lac Pelletier on July 30, 2022 in an attempt to break the previous mark of 215.1 metres set at an indoor swimming pool in Milan, Italy back in 2018.
Organizers reflect back that the event started at 9 a.m. when hundreds of people and their water inflatables began making their way into Lac Pelletier. At 11:15 a.m. the line was in place and the stabilizer rope removed as their official attempt begin.
On hand to measure their official attempt were Wade E. Phair, SLS P. Surv. from GeoVerra conducting the on water measurement, and drone operator Clancy Melhoff began videoing the line for an overhead measurement.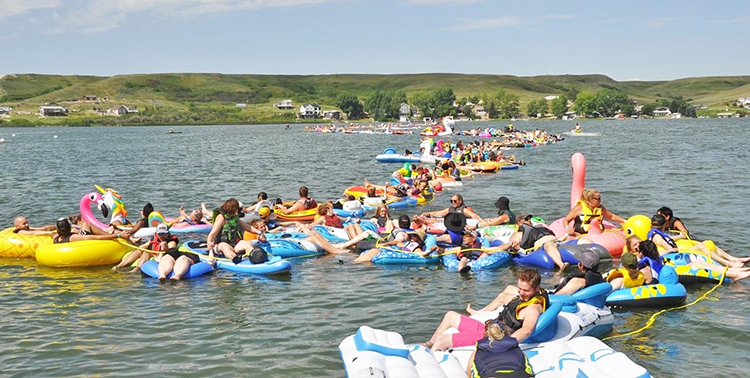 Their attempt was made more challenging by a wind that was picking up.
In the weeks following the attempt, event coordinator, Tammy Tangen, collected and reviewed the documentation for submission to Guinness for certification and was cautiously optimistic that a new world record had been set. After months of waiting, on January 17, 2023 official notification was received from Guinness that Lac Pelletier Regional Park is the new Guinness world record holder with a length of 358.70 meters.
Garth Melhoff, Executive Chair of the Lac Pelletier Regional Park Board, expressed the appreciation of the Board for the overwhelming support received from businesses, community groups, participants, volunteers, and the organizing committee.
"The Guinness attempt was truly a regional community event with everyone working together to achieve a common goal in the spirit of what Lac Pelletier Regional Park is all about."
In addition to setting a new world record the event through business sponsorships and participant registrations raised over $6,500 to be put towards Lac Pelletier shoreline restoration projects.