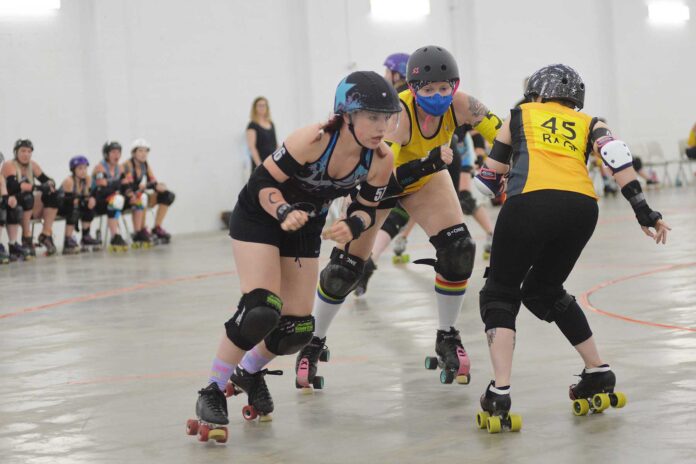 A large portion of the Redneck Betties roller derby team will be showcasing their talent at an elite level this season.
Bashin Bindi, Demanda Justice, Miss Koozie, Punchy, and Rex M All will all be competing for Team Sask this season. They will be representing their province at the All Stars Tournament in Red Deer on Jan. 21.
Additionally, Bellicose Blonde and Shell on Earth will be skating for Team Alberta in 2022-23. Team Alberta will compete at the All Stars Tournament in Red Deer and will also be the only Canadian team participating in the Battle of the Allstars Tournament in Scranton, Pennsylvania on March 16-19.
Miss Koozie will not only represent Saskatchewan this season, but she has also been named to Team Canada Junior and will head to France this summer.
Miss Koozie has been competing in roller derby for the past eight years after she started skating 12 years ago. She made her debut with the Redneck Betties four years ago.
She was named to Team Canada Juniors after participating in a tryout in Springbrook, Alberta. "There were two tryouts – one in Alberta and one in Ontario. I went to the one in Alberta, and we were tested off skates and then on skates, through drills and a scrimmage."
She found out she made the team on December 1.
"I was pretty excited because I also tried out in 2019 and I didn't make it, so this was very exciting for me," said Miss Koozie, who added that she was not allowed to tell anyone that she had made the team for another week.
The veteran roller derby girl said the team will have a familiar feel to it.
"I know a lot of the people on the two teams, the female and the open division one."
Miss Koozie will head to Toronto in April to train with Team Canada. Team Canada will have an early opportunity to test themselves against international competition when Team France is in Toronto for a series of games during their training camp. There will be another training opportunity in May in Calgary. The team will also train in France prior to the competition.
Although her role with Team Canada has not been defined yet, Miss Koozie is most comfortable as a blocker.
"I prefer to block, but I have been jamming over the past year with the Redneck Betties, and I will play wherever they need me."
The team will be fundraising throughout the year, and is currently through a GoFundMe campaign found at https://gofund.me/ea2244ca
The 2023 Junior Roller Derby World Cup will be held in Valence, France on July 28-30. National teams currently committed to compete at the event include Australia, Canada, Denmark, France, Great Britain, New Zealand, Sweden, and the United States.