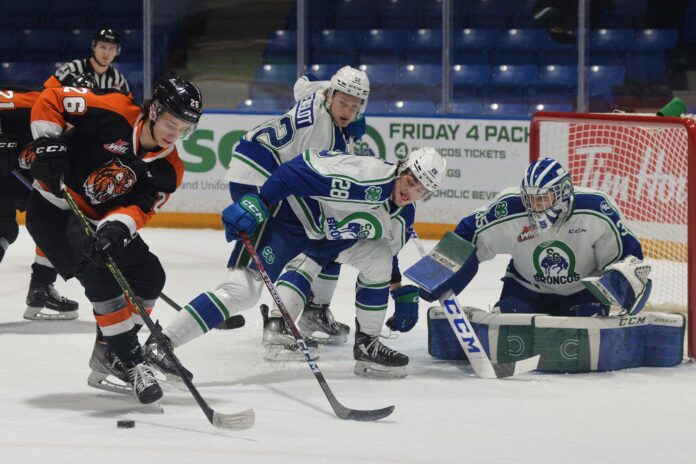 The Swift Current Broncos fought their way back from a 4-2 third-period deficit before losing 5-4 in a shootout to the visiting Medicine Hat Tigers on Wednesday.
Brayden Boehm scored the shootout winner for the Tigers to end the 12-shooter event. Andrew Basha and Tomas Mrsic also scored for the Tigers, while Josh Davies and Caleb Wyrostok scored for the Broncos in the shootout.
The Tigers took an early lead with a shorthanded goal from Shane Smith only 4:07 into regulation. The Broncos tied the game on their next power play when Filmon tucked a puck into the top corner from near the goal line for his 27th goal of the season in 35 games.
The Broncos took the lead midway through the second period when defenseman Josh Fluker jumped into a three-on-two rush and went high to the glove side for his first Western Hockey League goal. Medicine Hat tied the game minutes later when Brayden Boehm shoveled home a rebound on a power play rush after the Broncos had been stopped on a two inviting shorthanded chances in the opposite end. The Tigers quickly took a second lead when Bogdans Hodass scored from a wrist shot from the high slot. Hodass doubled the lead late in the period when he fired a point shot into the top corner right after a Broncos penalty had ended.
The Broncos cut into the lead 3:47 into the third period when Filmon one-timed home a perfect centering feed from Mathew Ward. The Broncos tied the game with a power play goal from Connor Hvidston when he tipped home a point shot early in a four-minute man-advantage.
Joey Rocha took the loss with 28 saves to fall to 4-1-0-1. Beckett Langkow made 23 saves to improve to 15-15-4-1.
The Broncos fell to 20-17-0-2 as they remain eighth in the Eastern Conference after their first loss to Medicine Hat in four attempts this season. Medicine Hat improved to 17-21-5-1 with their second straight win.
The Broncos will host the Regina Pats on Friday. The Broncos are currently two points back of the Pats (21-19-1-1) for seventh with three games in hand.