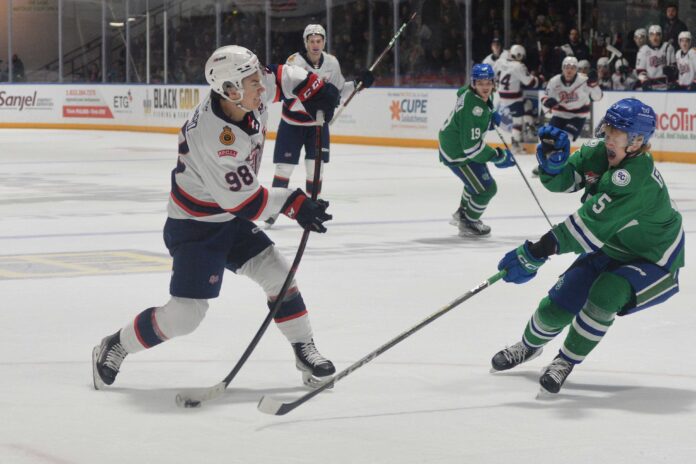 The Swift Current Broncos scored three unanswered goals in the third period to defeat the visiting Regina Pats 4-2 in front of a sold out crowd on Friday.
Pats star Connor Bedard scored 31 seconds into the first power play of the game when he wired a shot glove side from the slot for his 37th goal in 32 games this season.
The Broncos tied the game 7:05 into the second period with a power play goal from Josh Davies when he knocked home his 10th goal of the season on a centering feed from from Sam McGinley.
The Pats took a second lead 2:32 into the third period with a Parker Berge goal on a screened point shot. Josh Filmon tied the game with 7:16 remaining with a spinning, no-look backhand on the rush for his 29th goal of the season. The Broncos took the lead 34 seconds later when Drew Englot tapped home his first goal as a Bronco on a perfect pass from Davies. Davies capped his three-point outing with a power play goal as he skated through the Pats and found the top corner for his 12th goal.  
Reid Dyck made 25 saves to improve to 9-11-0-0 for the Broncos. Drew Sim took the loss with 26 saves.
The Broncos moved into seventh spot in the Eastern Conference with a 21-17-0-2 record. Regina dropped to 21–20-1-1 as they fell to eighth.
The Broncos and Pats will rematch on Saturday in Regina. The Broncos now lead the season series 3-2 heading into the finale.