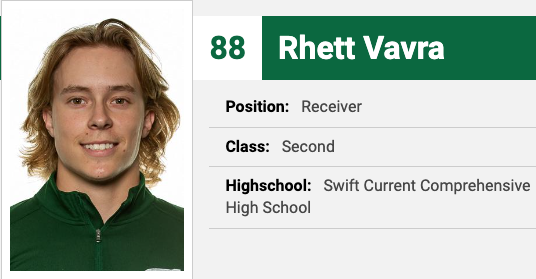 Swift Current's Rhett Vavra played a prominent role in the University of Saskatchewan Huskies 37-9 win over the Manitoba Bisons in Saskatoon on Saturday.
The semi-final victory sent the Huskies to the Hardy Cup championship game, which the Huskies will host on Nov. 12.
Vavra, a second-year receiver, caught a four-yard touchdown pass early in the second quarter for the winning points.
He finished the game with a team leading four catches for 45 yards. Vavra also returned two punts for 79 yards, including a 62-yard return.
The Huskies had finished first in the regular season with a 7-1 record. Vavra has now caught 34 passes for 648 yards with six touchdowns, including a two-touchdown outing the week before against Calgary when he caught three passes for 159 yards.
Shaunvon's Nixen Voll is a fourth-year defensive back with the Huskies. He has nine tackles, one interception, and four pass breakups in nine games this season.
The Huskies will host the Hardy Cup championship game at Griffiths Stadium in Nutrien Park. The Huskies defeated UBC 29-10 at home in September and lost 35-29 on the road on Oct. 22.