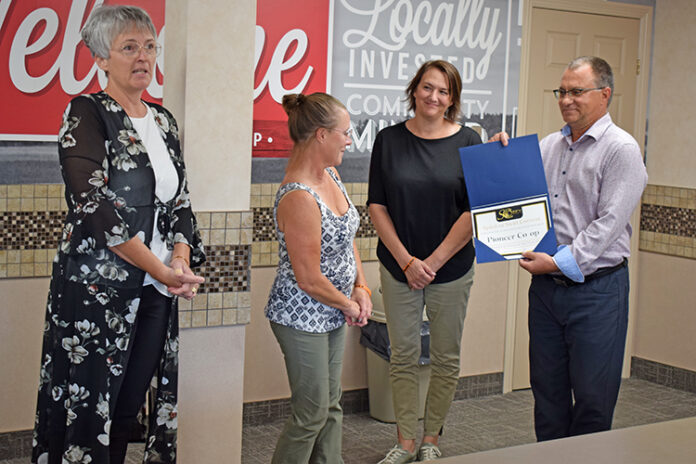 Pioneer Coop has been chosen to receive the prestigious SCBEX Member Business of the Year from the Swift Current and District Chamber of Commerce.
The award was announced during a surprise presentation at the Pioneer Co-op Administration Office earlier this afternoon. Pioneer Co-op has previously been inducted into the SCBEX Business Hall of Fame in 2016, and back during the inaugural SCBEX Awards in 1999 they were saluted with the Community Involvement Award.
"It was very unexpected, but very appreciated," admitted Larry Kozun, Chief Executive Officer of the Pioneer Co-op.
"It is definitely a team effort to receive such an award. Our team members, team leaders, all of our staff, also our board of directors, work very hard every day. They wake up in the morning, go to work serving our members, and we really appreciate it."
Pioneer Co-op started back in 1936 and it has grown to the business it is today with 30 locations in 19 communities across the Southwest. During their most recent Annual General Meeting back in April, Pioneer reported record sales of $345.3 million during 2021.
"We would like to thank the City of Swift Current and the Swift Current and District Chamber of Commerce for creating a business environment for businesses to grow. We really appreciate that," Kozun said as one of the reasons for their success.
Pioneer Co-op has experienced growth in Swift Current over the past number of months. Earlier this year they opened their Springs Drive service station and liquor store location, plus they are currently making renovations to the Wheatland Mall service station building, plus the interior of the Wheatland Mall food store.
"And one thing about Pioneer Coop we are on the cusp of all the changes and trying to keep ahead, and we really appreciate the challenges that come every day."
Kozun added that Pioneer Co-op works to support the communities in which they operate.
"One of our pillars of Pioneer Co-op is community. We're in 19 communities so we try and support each of the communities…we try to donate and we look at how we can support the communities because without the community we will not exist."
Karla Wiens, CEO of the Swift Current and District Chamber of Commerce, highlighted that Pioneer Co-op has been chamber member since at least 1962. Their continued impact across the region makes them a fitting recipient of the board selected award.
"We put a key emphasis that we are Swift Current and District and surrounding area. A lot of our recent projects and initiatives are on a regional focus, and our rural community is very important to everyone, and the Pioneer Co-op is very much a part of that," Wiens said.
She said Pioneer Co-op's current growth and renovations adds to their community impact.
"For years they've had a lot going on. But with the gas bar and the liquor store opening up at the new location, they've got a massive renovation going on here and this place is still busy, busy, busy whenever you go."
Pioneer Co-op will formally be presented their SCBEX Member Business of the Year award at the 24th annual SCBEX Awards Gala on October 28.
The top three finalists for all the SCBEX award categories will be announced at The Big Reveal on October 6 at the Great Plains College gymnasium starting at 5 p.m.