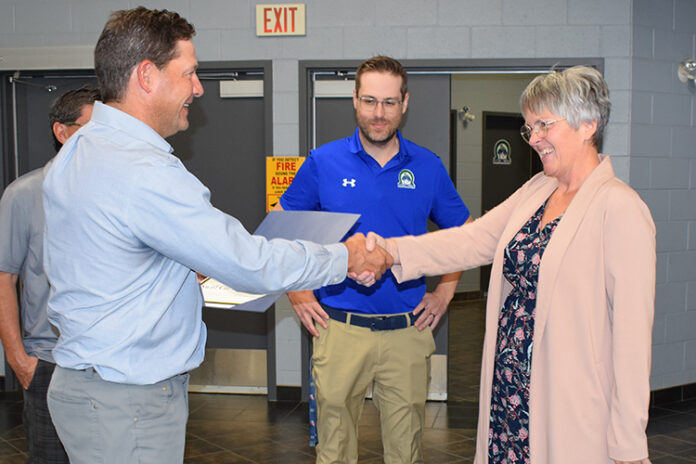 The Swift Current Broncos scored a major community achievement off the ice this afternoon when they were named as the 2022 SCBEX Business Hall of Fame inductee for the upcoming 24th annual Swift Current Business Excellence Awards.
Swift Current and District Chamber of Commerce CEO Karla Wiens made the surprise announcement to a group of Broncos business staff, hockey staff and board representatives earlier this afternoon.
"It is very heart warming to see the absolute joy on people's faces in being recognized with this very worthy recognition of all of the community efforts that the Broncos do, from the players all the way up to the management in the office. It's a team, not just the hockey players, but it's a team that does a lot in and for our entire community and region," Wiens said of the surprise announcement.
Swift Current Broncos Board of Directors Board Chair Trent McCleary said the award is important recognition for the franchise.
"It's a nice surprise and hopefully it's good timing of a lot of positive things to come for this year for the hockey club," McCleary said moments after being announced as the newest SCBEX Hall of Fame inductee.
"Any time you start talking the Hall of Fame you know you're in very good company," he said. "To be chosen out of all the businesses in Swift Current – there's a lot of businesses that have been around a long time with the ag and the oil – and we pride ourselves in being a part of the community."
"It's very gratifying that we have been able to sustain a club in a city this size for this long and have the success that we've had, it's a tribute to the staff members, to the players, to the community as a whole just because they continue to support us. We've had our ups and we've had our downs, and I think as a club we're on the upswing with the on-ice product as well. We're just very ecstatic with an award like this."
McCleary has been part of the Broncos organization since it came back from Lethbridge in 1986 after Swift Current's 12-year hiatus from the WHL from 1974 to 1986. He skated with his hometown Broncos from 1989 to 1993 and was a member of the Broncos Western Hockey League Championship winning team in 1993. After an eight season professional hockey career which included NHL stops in Ottawa, Boston and Montreal, McCleary eventually returned to the Broncos Board of Directors in 2009 and he has served as Board Chair since 2017.
He said the Broncos take particular pride in this award because as a community-owned team there is a lot that goes into operating the franchise.
"There's no one person to account for everything, so we try to have a very diverse board and we try to be out there. We're in the stands every game," he said. "The board, we hire good staff and let them do their job. We've really made a focus of doing that."
He pointed out the franchise is in good hands thanks to the efforts of their hockey staff.
"You just look at what Devan (Head Coach Devan Praught) and Chad (General Manager Chad Leslie) have tried to get out of the players. It has been very, very tough the last three years with COVID. But you'll see an increased presence in the schools, in the minor hockey rinks and the minor hockey practices."
The long term success of junior teams is complicated by the constant turnover of players and personnel as they develop talent for other levels of hockey.
"It's difficult. It's hard to win in this league. And we had an opportunity to win in 2018 and we were successful. And we're definitely on the upswing again. But we need the community's support as well. We've start to see that come back. It has been a really tough couple of years with COVID. But now you just see the energy returning to the building, the enthusiasm."
McCleary pointed out that as the Broncos are synonymous with Swift Current, when the Broncos are successful that helps build momentum throughout the city.
"We're a business but we're also a non profit. Nobody wins, but everybody loses if we don't have success because I think the Broncos are part of the fabric of this community."
"COVID has been something that's just been absolutely unique to everybody. We're the same as everybody else, we want to help the community grow and come back together. And we think that we're in a good position to do that. Our goal is to be part of the community. We're partners in the community."
Wiens explained the Broncos selection to the SCBEX Hall of Fame is a fitting addition.
"They are a fixture and a corner stone of our community," she said. "The past several years has been a challenge for many people, but especially people who are hosting events and sports teams have had a really tough go. And the team has had some challenges, but at the end of the day they are all about engaging this community and providing an opportunity for people, families and friends to come together and enjoy and root for our WHL team."
The Broncos will be formally inducted into the SCBEX Hall of Fame at the 24th annual SCBEX Awards Gala on October 28.