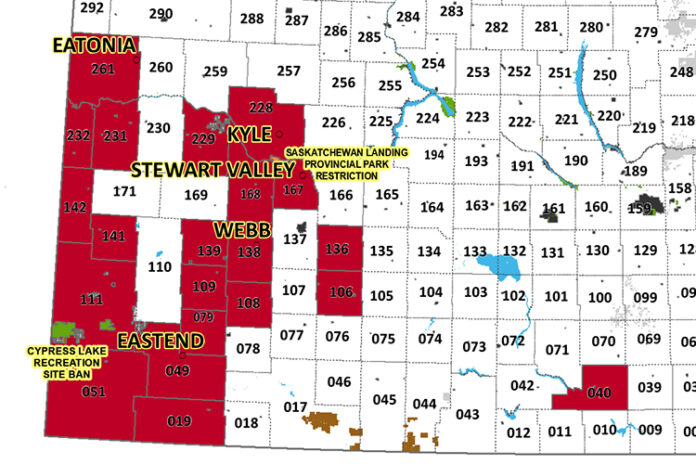 A large portion of the Southwest has fire bans in place heading into the weekend.
With temperatures forecast to climb into the 30 Celsius range for much of the upcoming week, the hot and dry weather will already add to conditions producing fire hazards in the Southwest.
As a result of the extreme fire hazard, fire restrictions are now in place at both Cypress Hills Interprovincial and Saskatchewan Landing Provincial Park. All open fires are prohibited when restrictions are in place. CSA approved self-contained portable gas heating devices and fire pits, barbecues, pressurized stoves and charcoal briquettes will be permitted for cooking and heating purposes.
The Saskatchewan Public Safety Agency, which coordinates a map containing all reported municipal fire bans, as of August 12 was reporting 21 active RM fire bans, five active urban municipal fire bans, and two active provincial park fire bans. All but one of these bans was in the Southwest.
The list includes: RM of Frontier #19; RM of Bengough #40; RM of White Valley #49; RM of Reno #51; RM of Arlington #79; RM of Whiska Creek #106; RM of Bone Creek #108; RM of Carmichael #109; RM of Maple Creek #111; RM of Coulee #136; RM of Webb #138; RM of Gull Lake #139; RM of Big Stick #141; RM of Enterprise #142; RM of Saskatchewan Landing #167; RM of Riverside #168; RM of Lacadena #228; RM of Miry Creek #229; RM of Happyland #231; RM of Deer Forks #232; RM of Chesterfield #261.
Bans were also reported in place in Eastend, Webb, Stewart Valley, Kyle and Eatonia.