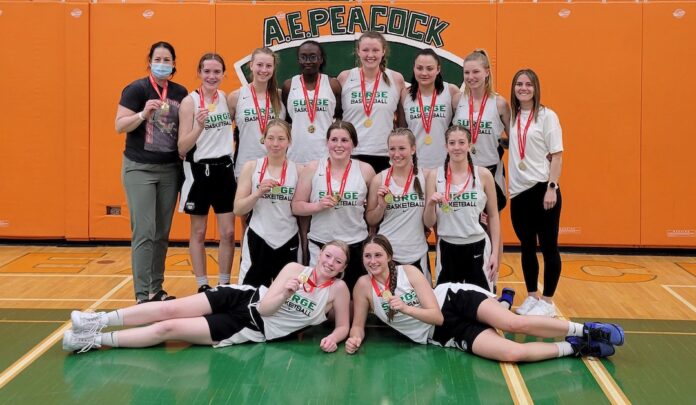 The Swift Current Surge U17 Girls basketball team claimed their first gold medal of the season at the Prairie Premiere Classic in Moose Jaw this weekend.
The Surge maintained a consistent lead in their first game on Saturday night to beat the Moose Jaw Jam 60-47. Makayla Fleischfresser led the team with 12 points and Kinsey Bender was named player of the game for her tenacious defense.
In their second game on Sunday afternoon the Surge easily handled the Badlands Renegades, winning 77-44. Great passing from her teammates led to 22 points from Fleischfresser. Karley Tait added 13 points to the scoreboard and was named player of the game.
The Surge faced a talented Regina Hornets team in the gold medal match. A strong first quarter run gave the Surge an early lead, which they were able to maintain until the fourth quarter. With less than a minute left in the fourth, a quick bucket put the Hornets up by one. Janelle Stolhandske-Dale nailed a crucial long two-pointer to regain the Surge lead. With three seconds left in the game, a foul sent Mia Riegel to the line where she hit both free throws to put the Surge up by three. Full court pressure and an outstanding steal by Riegel on the inbounds clinched the victory for the Surge.
Rielle Klassen quarterbacked the team, forcing turnovers and putting up nine points at key times throughout the game. Grace Thierman added an essential 11 points, followed by 10 points from Tait in the win. Riegel was named player of the game.
The Surge will be travelling to Calgary for their final tournament of the season June 10-12.