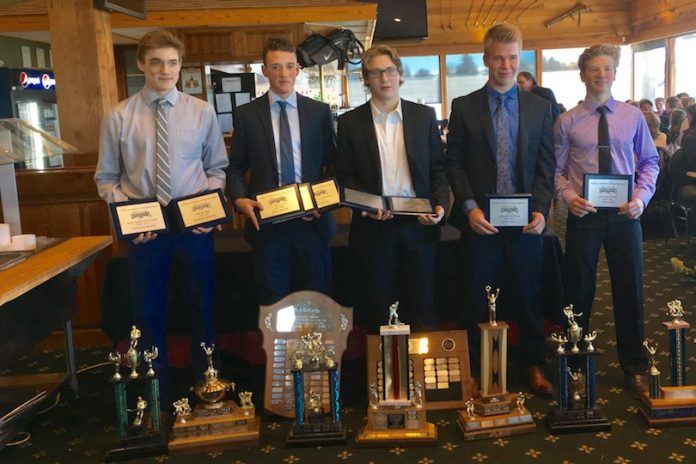 The leadership and on-ice excellence of Zach Ziegler was recognized at the Swift Current Home Hardware Legionnaires' year-end banquet Monday when the team's only graduating player won three awards, including the Most Valuable Player Award.
The second-year defenseman from White City finished third amongst all Saskatchewan Midget AAA Hockey League defensemen with 31 points this season. He was also named the Top Defenseman and was a unanimous selection for the Players' Choice Award.
"It was special," said the Legionnaires' captain of the awards. "It was a good last year of Midget AAA and it was nice to see the hard work that I put in during the season paid off and it was recognized."
Rookie defenseman Christian Riemer collected two awards after fine debut campaign. He was named the Rookie of the Year and Most Improved Player. The Regina product posted 20 points in 40 games and was listed by the Swift Current Broncos during the season.
Fellow Broncos' prospect Ethan Regnier finished sixth in league scoring with 54 points in 44 games to win the Legionnaires' Top Scorer Award. He also collected the Most Game Stars Award after breaking a tie in the final game of the regular season one day earlier in Tisdale.
Forward Owen Ozar was selected for the Coaches' Choice Award after the Prince Albert product registered 16 points.
Kersey Reich rounded out the winners as the Academic Player of the Year with a 92 percent average.
The Legionnaires missed the playoffs for a fifth consecutive season with a 14-25-0-5 record after playing in 18 one-goal games under a new regime led by head coach Darren Evjen.
"It definitely ended a little earlier than we wanted," lamented Ziegler. "We definitely made some steps for the organization for the future. Like Darren said, even though I won't be able to be a part of it next year, I am definitely going to be keeping track of what they are doing and I just hope they can accomplish more than what we did this year."