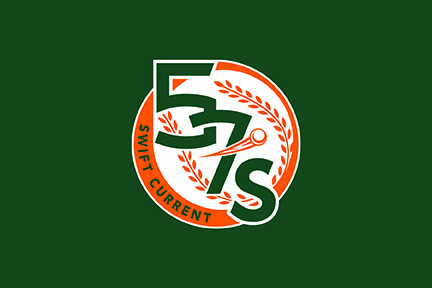 The long awaited return to action for the Swift Current 57's in the Western Canadian Baseball League is just under a month away as the team returns to the field for the first time in nearly three years.
The 57's will open the 56-game regular season on May 27 and 28 when they visit the Weyburn Beavers. Their home opener will be Sunday, May 29 at 2:05 p.m. at Mitchell Field.
"I think it's going to be a good start for us just to have a couple games on the road. We're going to have the guys bus out there, stay the night, play the next day. Just a good opportunity to bond right off the hop and get a couple games against Weyburn, which is a very similar organization to us. It will probably be a good indicator of where we are with things," said 57's President Brad Woods.
The 57's will have a new look this season under first-year head coach Joey Jordan from the University of West Georgia and assistant coach Adam Kowalski from Harper College in Illinois.
"It's going to be a new tandem for us after years and years of Joe Carnahan. We're excited to have two new guys with new energy helping us relaunch baseball here in Swift Current," said Woods.
"The upside with Joey is he played in Medicine Hat, so he has a pretty good feel for the WCBL and the quality of ballplayer that it takes to play here," added Woods.
Woods said that the 57's had 12 position players and nine pitchers signed, a recruiting process that has been further complicated by the pandemic.
"One of the first things the team and I talked about with regards to recruiting was the fact that these kids will need to be double vaccinated in order to get across the border," noted Woods.
The WCBL regular season concludes on August 6 and the playoffs begin on August 8.
One of the most significant changes for 57's fans will be the move away from game day vouchers to traditional game day season tickets.
"For ourselves, we need to see consistent revenues across the season. With the vouchers you get really peak games where you have a lot of people, and then you have a number of games where you don't," explained Woods.
"Vouchers are convenient, they're nice for the fans, but we have to cover costs and we have to be able to pay for the things that it takes to have these kids here. Having some guaranteed income, it just seemed like it was time to make the switch."
The 57's have made every Monday game a Raincheck Game, so any unused tickets can be redeemed at those games. They also have Bring a Buddy and merchandise and concession coupons built into the season ticket package. Season ticket holders will also have the opportunity to win free season tickets for next season as well as jersey raffles.
Season tickets are available at Pharmasave, City Hall, Cindy's Taxes and More or by contacting Brad Woods by email at b.woods@swiftcurrent.ca or by calling or texting at 306.772.0471.
Game day tickets – $12
Season tickets – $336
Early Bird pricing until May 29 -$250