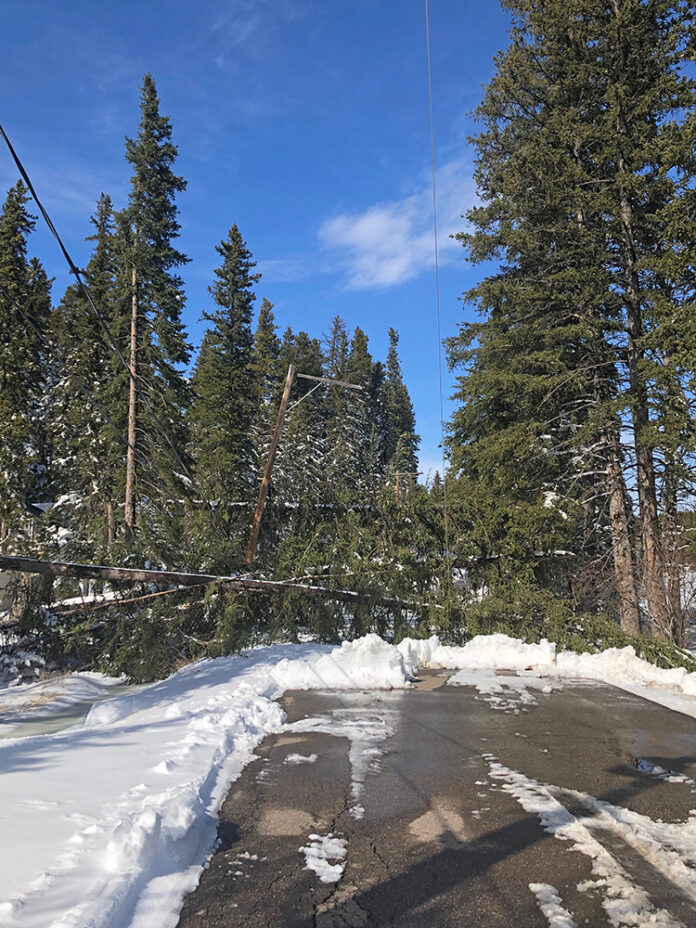 SaskPower crews continue to make progress in their work to restore power to areas impacted by the extreme weather which roared across the Southwest on Tuesday, but new challenges are slowing their repair efforts.
SaskPower provided a late afternoon update on their repair progress in the Maple Creek area, where the estimated time of power being restored now set to 10 p.m. Wet and muddy conditions are creating difficult working conditions, and new issues are being located during the repairs.
Repairs to the power lines feeding areas north and east of Maple Creek will not be completed tonight, meaning Hatton, Golden Prairie and Piapot will likely stay off well into tomorrow. Power has been restored to Tompkins and surrounding rurals.
Crews have not been able to begin repair work south of Maple Creek. Cypress Hills, Nekaneet and surrounding rurals will be off into Friday. Crews are being hampered by significant damage caused by fallen trees in the Cypress Hills.
In total SaskPower expects approximately 2,000 customers in these areas to remain without power overnight, and 700 to 800 customers to remain without power into Friday.
SaskPower will be issuing additional advisories as more information becomes available, and the public is invited to visit saskpower.com and the SaskPower twitter feed @saskpower for the latest info.
Tuesday's gusting winds and heavy snowfall have also impacted SaskTel services in the region. Some communities have limited services at this time, and SaskTel anticipates more services may fail as back-up battery power depletes if commercial power is not restored.
As of mid Wednesday afternoon there was no Internet, Wireless, and Landline (SaskTel Home and Business Phone) in the communities of Burstall, Cypress Hills, East Fairwell, Fort Walsh, Fox Valley, Golden Prairie, and Richmound.
SaskTel crews will work to restore services in all impacted communities as soon as it is safe to do so.
Residents in these affected areas in need of police services during this outage are being asked to visit their closest RCMP detachment for assistance.
Residents of Burstall, Fox Valley and Richmound are asked to go to the Leader RCMP Detachment located at 348 East Road Allowance in Leader.
Residents of Cypress Hills, East Fairwell, Fort Walsh and Golden Prairie are asked to go to the Maple Creek RCMP Detachment, located at 110 Maple Street in Maple Creek.
The Saskatchewan RCMP note that SaskTel has indicated they anticipate more services may be disrupted in the area if power is not restored. If you are in need of police assistance and your landline and cell phone will not work, visit your local RCMP detachment.