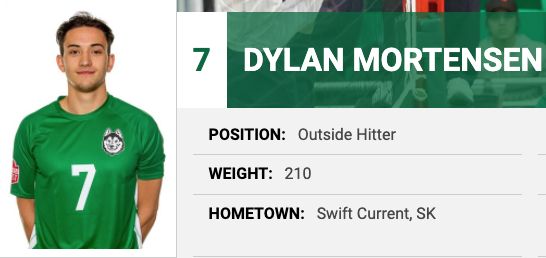 Dylan Mortensen was recognized for another standout season when he was named to the Canada West Men's Volleyball Second All-Star Team on March 9.
The 6'8'' University of Saskatchewan Huskies outside hitter finished second in the conference with 301 kills behind only Winnipeg's Daniel Thiessen. The Swift Current product was also tied for third with 33 service aces. The fourth-year Huskie finished second in Canada West behind Thiessen with 354.5 points as well. He finished 11th in the conference with 107 digs in 76 sets.
Mortensen, now in his fourth year of eligibility, helped the Huskies to a third-place finish in the East Division with a 9-9 match record. They followed up with their first playoff win in nearly six years last weekend as they advanced through the opening round of the playoffs in Edmonton.
The Huskies are in Langley, BC this weekend, needing a top-two finish to reach the Final Four weekend. The Huskies will play Trinity Western University on Friday and the University of Calgary Dinos on Saturday.
The host TWU Spartans feature Swift Current's Henry Rempel, a 6'5'' outside hitter. Rempel had 48 kills, seven aces, nine blocks, and 14 digs in his second season at TWU.
CANADA WEST FIRST ALL-STAR TEAM
POSITION / NAME / UNIVERSITY / YEAR / PROGRAM / HOMETOWN
S / Derek Epp / Trinity Western / 4 / Human Kinetics / Saskatoon, SK
S / Max Elgert / Alberta / 5 / Arts / Athabasca, SK
OH / Brodie Hofer / Trinity Western / 3 / Business / Langley, BC
OH / Daniel Thiessen / Winnipeg / 5 / Economics & Finance / Winnipeg, MB
OH / Hamish Hazelden / Calgary / 5 / Arts / Esperance, AUS
M / Philipp Lauter / Brandon / 1 / Music / Wiesbaden, GER
OH / Matthew Neaves / British Columbia / 2 / Business / Calgary, AB
CANADA WEST SECOND ALL-STAR TEAM
OH / Dylan Mortensen / Saskatchewan / 4 / Business / Swift Current, SK
OH / Chris Byam / Mount Royal / 2 / Health & Phys. Ed / Bow Island, AB
M / Jackson Howe / Trinity Western / 4 / Business / Calgary, AB
M / Billy Johnstone / Alberta / 2 / Kinesiology, Sport & Rec. / Gisborne, NZ
OH / Mike Dowhaniuk / British Columbia / 3 / Applied Science / White Rock, BC
L / Darian Picklyk / Winnipeg / 4 / Business Administration / Birds Hill, MB
M / Luis Lange / Mount Royal / 3 / Business / Calgary, AB
CANADA WEST ALL-ROOKIE TEAM
M / Philipp Lauter / Brandon / 1 / Music / Wiesbaden, GER
OH / Isaac Heslinga / Alberta / 1 / Engineering / Orangeville, ON
OH / Skyler Varga / Saskatchewan / 1 / Kinesiology / Muenster, SK
S / Mason Greves / British Columbia / 1 / Nat. Resource Cons. / Calgary, AB
M / Louis Kunstmann / Calgary / 1 / Science / Bad Soden, GER
OH / Spencer Grahame / Manitoba / 1 / Engineering / Selkirk, MB
S / Zach Van Geel / British Columbia Okanagan / 1 / Arts / Calgary, AB