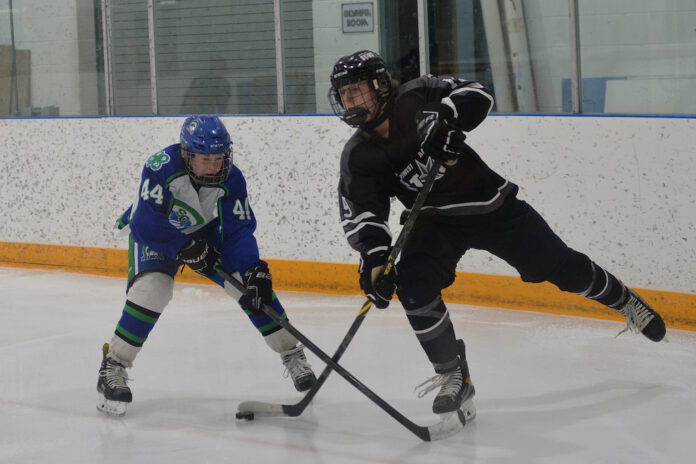 The Swift Current PureChem Broncos won three home games to conclude the Saskatchewan U15 AA Hockey League regular season.
Tuesday, the Broncos defeated the visiting Prince Albert Pirates 2-1 in overtime. Griffin Darby scored in the first period and 14 seconds into overtime while Wesley Olson picked up the only assist. Conner Bender earned the win with 26 saves.
Nash Curniski scored the only goal for the Pirates, who got 31 saves from Josh Henry.
Friday, the Broncos doubled up the North West Stars 4-2 when Berney Weston made 42 saves on 44 shots. Sam Kirwan scored twice and Parker Rondeau added a goal and an assist. Ryder Woods and Will Kirwan each added two assists. Jace Egland also scored, while Blake Girard, Darby, and Olson all added assists.
Caleb Pockrant and Lukamus Lehman replied for the Stars. Brady Carr made 34 saves in the loss.
The Broncos completed the three-win week with a 6-0 win over the visiting Melville Millionaires on Saturday. Bender needed only 10 saves for his third shutout of the season.
Egland led the Broncos with four assists, followed by a goal and two assists from Chase Petersen. Olson scored twice, followed by goals from Sam Kirwan, Dylan Gedny, and Darby. Girard, Brady Simpson, Rondeau, and Will Kirwan all added single assists.
The Broncos moved into top spot in the South Division with a 25-4-1-1 record.
Rondeau led the Broncos with 42 goals and 68 points in 31 games. Egland led the team with 38 assists and was second with 63 points.
Bender finished with a 13-1-1 record with a 1.93 goals against average and a .915 save percentage. Weston finished 12-4-0 with a 2.66 GAA and a .922 save percentage.