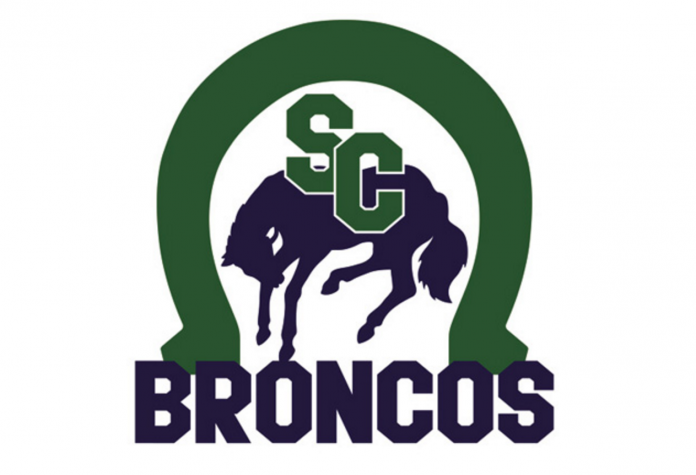 The Swift Current Broncos are hoping they had a franchise-altering day on Dec. 9 when they selected twice in the opening seven picks of the 2021 WHL Prospects Draft.
The Broncos used the sixth overall pick to select forward Clarke Caswell out of Brandon, Manitoba. The 5'10'' forward had 24 points in five games with the RHA Kelowna U15 Prep team last season. He had 23 goals and 28 assists in his first 20 games with the Brandon U18 AAA Wheat Kings this season.
"Clarke is an elite player in regards to he makes everybody around him better," said Broncos Interim General Manager Chad Leslie. "He does everything the right way. He's going to be an offensive player, but he plays a complete game, 200 feet. He can play in a lot of situations and he does everything the right way. He's a great kid, high character, so he was important for us to get."
"I'm mainly a playmaker, but I can score as well," added Caswell when asked to describe himself. "I'm a pretty hard worker. I try to play the whole 200 feet and try and get into every situation, whether it's PK or PP."
Leslie is based out of Brandon and has been well aware of Caswell's talent over an extended period of time.
"I have seen him play quite a few times over the past five years. I'm very familiar with the family. We felt very comfortable with what we saw."
Caswell seemed equally excited to be joining the Broncos. "I knew Swift Current was one of the top teams I wanted to go to, so I am happy getting picked by them."
"I know they are a really young team, which would be fun to play with. I know it's a small community, so I'm pretty sure great fans and just great atmosphere there, which is always fun to play with," he added.
The draft began at 11 a.m. and it didn't take long for Caswell to learn his WHL fate.
"I was just in school, so one of my friends told me. Yeah it was pretty exciting. I got a lot of texts from my friends and family and from some of the players, so that was pretty cool."
The Broncos have announced their intention of getting Caswell signed and into a WHL game soon, possibly after Christmas. Either way, it won't be long until he can compete for a full time spot in the WHL.
Caswell said he won't be a total stranger walking into the rink in August. He skated with current Broncos forward Braeden Lewis in the summer and has played against Winnipeg players such as Rylan Gould.
Caswell is particularly excited to team up with childhood friend Josh Fluker, who was drafted one pick after him, seventh overall.
"Yeah I've played against him, I've played with him. Josh being a great friend of mine he was texting me before the draft and we were hoping that we would go to the same place and we happened to have that work out, so it's pretty exciting."
Fluker hails from Boissevain, which is located 73 kilometres south of Brandon on Highway #10.
"We played together at WHL Cup and then in minor hockey played on the same team in spring hockey and eventually at the Brick Tournament in Edmonton."
The Broncos selected eight players overall, including five in the opening 48 picks.
"It's going to be fun progressing with everybody else drafted in this class. I know a couple of the guys besides Josh that were drafted here, so it should be fun playing with them throughout my career in Swift Current," said Caswell.
Caswell is currently listed at 5'10'' and 152 pounds. "I think I just need to get my speed faster just because every level higher is a lot faster. I think I just need to adapt to that and I think I should be pretty good after that."