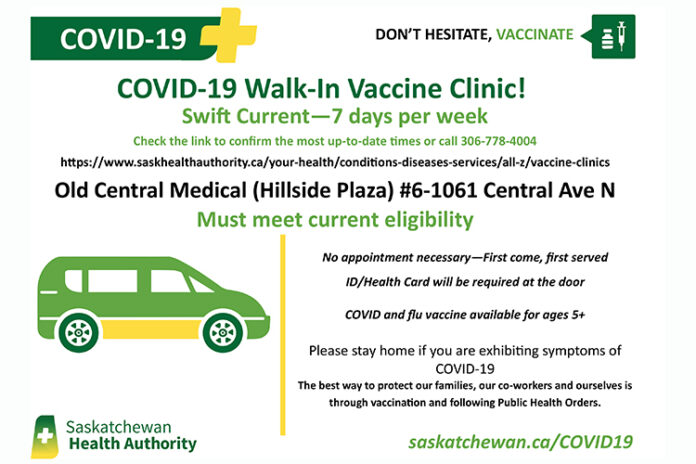 All Saskatchewan residents aged 50 years and older are now eligible to receive a booster dose to provide better protection from COVID-19.
This initiative announced by the provincial government on December 7 means that 350,000 provincial residents aged 50 and over are eligible to receive booster shots.
Saskatchewan's Chief Medical Health Officer Dr. Saqib Shahab noted that the province was starting to see waning protection in fully vaccinated individuals in the older age groups during the most recent wave of the pandemic. Saskatchewan has also reduced the interval between booster shots from the former standard of six months down to to five months.
"Obviously most of our cases in persons under 50 were in unvaccinated. Most of our cases in over 50 were also unvaccinated, so that reinforces the need to get first/second doses. But we were seeing, especially when community transmission was high, breakthrough cases in the fully vaccinated. Initially over 80, but then also increasingly over 70 and over 60. And it all relates to time since people got their second dose. So as people were nearing their five months, although small, we were seeing a definite signal of increase in breakthrough cases, mostly mild, but a few unfortunately resulting in hospitalization at that five month mark. So that's why, based on our own epidemiology we made the decision, and the Clinical Expert Advisory Group which the government has supported, to allow booster doses for everyone 50 and over at five months," Dr. Shahab said during a technical briefing on Tuesday.
In addition to all individuals aged 50 and over, booster shots can be accessed by all health care workers, individuals 18 and over living in the far north and living in First Nations communities, plus all individuals born in 2009 or earlier who have underlying health conditions which make them clinical extremely vulnerable, including those with diabetes.
"We hope that this will allow many people who are still in some ways protected from COVID with the two doses to boost their immunity and further reduce the risk of mild illness but also more importantly breakthrough illness that can result in serious outcomes like hospitalizations."
"This was based on our data. It's really important that we looked at our own data and context. And also look at our capacity to deliver vaccines. We have enough vaccines and we also have the operational capacity to deliver. So based on that I think we are very well placed now to give booster doses as announced today at five months following your second dose."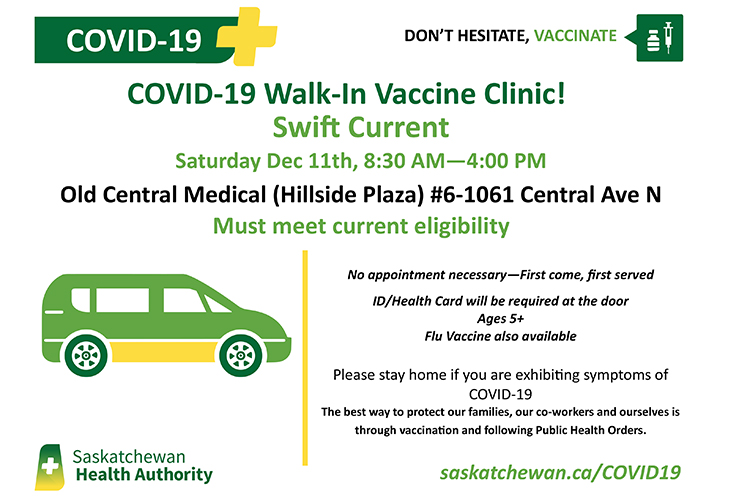 Individuals who had previously received a third dose for travel purposes are not required to access a fourth vaccination at this time.
Saskatchewan's vaccination program is expected to pick up again after experiencing a small lull after a rush of appointments following the province's launch of paediatric vaccinations in five to 11 year olds.
Derek Miller, Chief of Emergency Operations, Saskatchewan Health Authority noted that vaccination walk in clinics and locations with booked appointments had been delivering 4,000 doses a day before slowing down slightly over the past few days. In the first two weeks of the paediatric vaccination program, 36,000 doses were administered to children aged five to 11, roughly 32 per cent of the eligible population.
"We are moving now towards other areas, specifically in schools to give opportunity for parents to bring their kids in to school-based clinics. Those clinics are also available to the public in most cases to provide as much access as possible," Miller explained.
He noted the SHA has been connecting with different partners in communities in order to bring vaccines to certain child groups in order to promote higher uptake among the five to 11 age group.
Dr. Shahab stressed the importance of vaccinations in the days leading up to Christmas and New Year's.
"All three populations are critical as we enter the holiday season. First of all obviously completing five to 11 first doses over December, and then many parents will come with their children for second doses in January onward. Secondly we still have some unfinished business for first and second doses. As we know many parts of the province have low COVID cases, but we continue to see higher case numbers in some southern rural areas – South Central, South East, Central East for example, and also North and Far North. So also our first and second dose uptake has increased 12 and older. We would still like that to continue," Dr. Shahab said.
"We have done really well in terms of protecting those at highest risk by offering a third booster. So with today's announcement that everyone 50 and older and 18 and older in the far north and on first nation communities is now eligible for a booster dose at five months, I think that is offered in a very important demographic, and we hope as many people as possible will take advantage of this."
It was reported that as of December 7, a full 87 per cent of Saskatchewan residents 12 years and over, and 82 per cent of residents five and older, and received their first dose. Additionally, 82 per cent of provincial citizens aged and over, and 74 of residents five years and over are fully vaccinated.