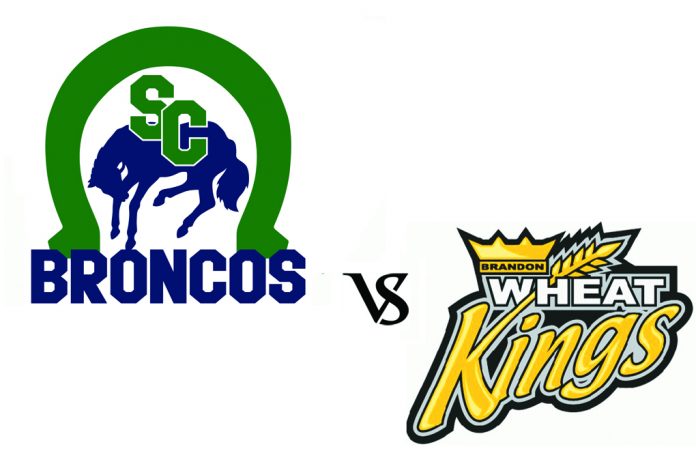 The Swift Current Broncos were never in the game on Tuesday in an 8-2 loss to the host Brandon Wheat Kings.
The Wheat Kings took the early lead when Riley Ginnell scored 5:54 into regulation. The Broncos tied the game midway through the period when Josh Filmon scored on a penalty shot to extend his seven-game point streak. The Wheat Kings regained the lead 1:19 later when Nolan Ritchie notched his eighth goal of the season. Brandon quickly added a power play goal from Marcus Kallionkieli for a 3-1 lead after one period.
Ridly Greig scored only 47 seconds into the second period to extend the Brandon lead. Mason Ward and Owen Harris also scored to give the Wheat Kings three goals in the opening 2:01 of the middle stanza. Greig added his second goal of the game during a five-point outing before Brady Birnie replied for the Broncos with his third goal of the season.
Ginnell notched the only goal of the their period, which was marred by five fights.
The Wheat Kings finished the game three-for-six on the power play, while the Broncos were zero-for-nine.
Isaac Poulter fell to 5–6-1-1 with nine saves on 14 shots over 21:25. Reid Dyck made 20 saves on 23 shots over the final 38:35. Ethan Kruger improved to 5-5-0-0 with 30 saves for Brandon.
The Broncos fell to 6-10-2-1, while Brandon improved to 8–10-0-0.
The Broncos will visit the WHL-leading Winnipeg Ice (19-1) on Wednesday to conclude a two-game Manitoba road trip.