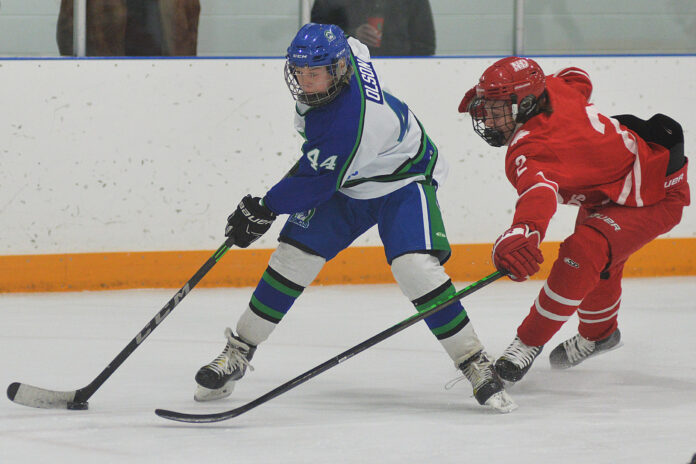 The host Swift Current Pure Chem Broncos won all four of their games to win the B Final at the 1st Annual Peyton Keller Memorial U15 AA Tournament.
The U15 AA Broncos opened the tournament with a 6-2 win over the Notre Dame Hounds.
Jace Egland led the Broncos with two goals and one assist. Wesley Olson scored twice and Mason Fauser added a goal and an assist. Parker Rondeau also scored, while Hayden Winslow, Griffin Darby, and Brady Simpson all added assists. Conner Bender picked up the win in goal.
The Broncos followed up that evening with a 9-2 win over the NEBC Trackers. Olson led the Broncos with one goal and three assists, followed by two goals and one assist from Rondeau. Sam Kirwan and Egland each scored twice, while Kai Packet and Will Kirwan had two-assist outings.
Fauser and Chase Petersen also scored. Riley Moberg, Winslow, Darby, Dylan Gedny, Simpson, and Blake Girard all added single helpers as Bender won a second straight game.
The Broncos wrapped up the round robin with a 4-3 win over the West Central Wheat Kings as Berney Weston earned the win in goal. Rondeau was in on every goal with a goal and three assists. Olson had a goal and an assist, including the game-winning goal in the third period. Moberg also had a goal and an assist and Fauser scored as well. Packet and Egland added assists.
The Broncos battled the North East Wolf Pack in the B Final and won 7-6.
Egland led the way with four goals and two assists, while Rondeau had six assists. Olson finished with a hat trick, followed by two assists from Girard and one helper off the stick of Moberg.
The North West Stars defeated the Yorkton Terriers in the championship game. Rondeau was named a Tournament All-Star with four goals and 10 assists in four games.
The U15 Broncos will have a three-game Saskatchewan U15 AA Hockey League road trip this weekend as they visit the Yorkton Terriers, Regina Monarchs, and Regina Aces.