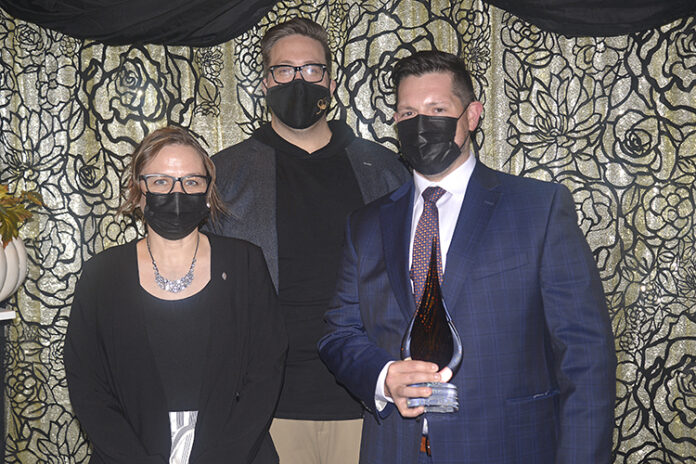 Swift Current physician Dr. Kevin Wasko was saluted as Citizen of the Year during the 23rd annual Swift Current Business Excellence Awards at the Living Sky Casino Event Centre.
Dr. Wasko is the fifth winner of the SCBEX Citizen of the Year category which was added in 2018, with previous honourees Betty McDougall, Larry Johnson, Stephanie Prpick-Boss and last year's winner Trevor Marion.
Dr. Wasko and other healthcare professionals at the Cypress Regional Hospital have endured four waves of the COVID-19 pandemic, all while pushing for higher vaccination totals on top of struggling with higher hospitalizations, ICU admissions, and unfortunately deaths.
"What I think this represents is a recognition of how hard healthcare workers have been working the last 17 months. It has been a challenging time. And our community realizes that and recognizes it and values the long hours and the emotional and physical toll it has taken on our healthcare workforce," Dr. Wasko said after receiving the award last night.
Dr. Wasko sits on the executive leadership team with the Saskatchewan Health Authority, serving as Physician Executive, Integrated Rural Health. However he still continues to practise medicine at the Cypress Regional Hospital.
"Its been a very unique vantage point I'd say as someone who practices medicine every week. And I work predominantly in the Swift Current Emergency Department, but I've worked in 10 different hospitals across rural Saskatchewan this year at various points in time and I've really gotten to connect with different healthcare workers – nurses and other doctors, pharmacists and care aides and beyond – and to really see what they're going through at their own unique locations. And it's been challenging, and being able to see how they've demonstrated resilience in their own communities, I think that's unique for me clinically. But then also to be part of the vaccine roll out as the provincial lead for that. Planning for the worst at times but also hoping for the best. And to be able to have that role at a birds-eye view in what we will do to deliver healthcare services across the province. And then actually implementing it at the front line."
"It's been a very unique experience. At times its been challenging, but it's also very rewarding."
Dr. Wasko conceded that while he has remained busy with a full range of emergency department duties and SHA responsibilities, he has also had to advocate for science and medicine in response to very vocal anti-vaxxers.
"Everyone brings their own viewpoints to things, and sometimes different biases or experiences that paint how they view things. What I wanted to bring to the public was that science is real, science should be trusted. That medical professionals are here for you, not part of a greater conspiracy, some sort of underhanded undertaking. We want the best. We listen to evidence. We implement evidence. It isn't always what people want to hear, but we will have to persevere and really uphold that."
He was also well aware of the significance of receiving this award from the Swift Current Chamber of Commerce at an evening celebrating businesses who have endured during the pandemic.
"I completely recognize that businesses have had it hard this year. No one doesn't think that," he said. "They've demonstrated resilience like few others in being able to keep their businesses going. But when people are healthy, customers are healthy, people feel safe – they're going to support local businesses. And I think that's above all what we need to balance. That ability for people to maintain health, to feel healthy, to feel confident, and they will go and support their local businesses."