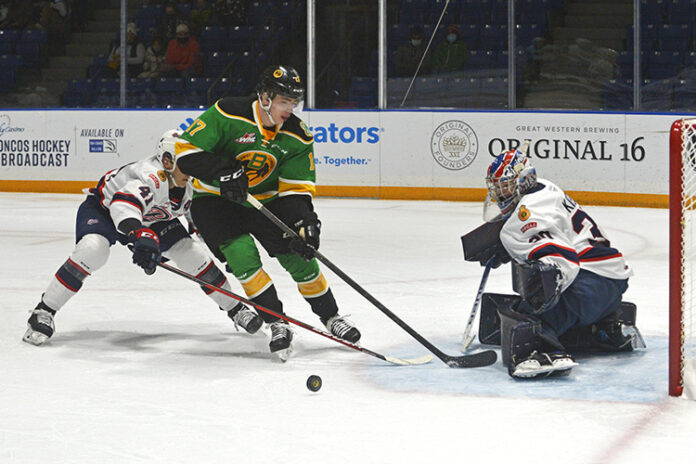 The Swift Current Broncos are now winless in eight straight (0-6-2) after dropping a 4-1 decision to the visiting Regina Pats on Friday night.
Swift Current jumped into a 1-0 lead in the opening period when Josh Davies scored his third of the year on the power play to give the Broncos an encouraging start. However the Broncos were outshot by a 35-14 margin over the last two periods as the Pats roared back.
Regina replied with goals 1:54 apart in the middle period on goals from Zack Stringer and Cole Dubinsky.
The Pats opened a 3-1 lead with 5:11 left in the third period when Dubinsky scored his second of the night on a two man powerplay. Stringer added his second of the night into an empty net to round out the scoring.
Broncos netminder Reid Dyck was named the game's first star after turning aside 44 of 47 shots while his season record drops to 0-3. Pats goaltender Matthew Kieper stopped 27 of 28 shots to improve his season mark to 3-6.
Swift Current ended the game one for eight on the powerplay, while Regina converted once on four man advantage opportunities.
Swift Current takes their 2-6-2-0 record into Regina on Saturday to face the 3-7-0-0 Pats to wrap up their home and home series.