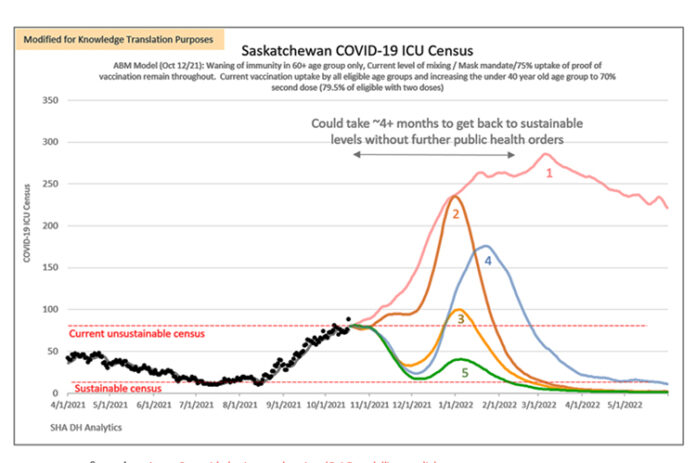 In order to eliminate additional COVID-19 surges into an already beleaguered healthcare system, modelling scenarios point to the need for additional measures beyond just increased vaccinations and booster shots.
Saskatchewan's Chief Medical Health Officer Dr. Saqib Shahab presented a modelling update on October 20 showing that even if the current fourth wave of the COVID-19 pandemic has peaked in the province, the healthcare system will not return to normal until start of 2022.
"If we can really work hard over the next three to four weeks, reduce our number of contacts, get vaccinated, stay home if you're sick, and we can really push our case numbers down. It will still take several weeks for the ICU and hospital census to come down. But then if we can really see that coming down over November and December, that makes for a safe holiday season and a lower number of cases into the new years," Dr. Shahab said during Wednesday's modelling presentation to the media.
"If we don't take cautions to reduce our number of contacts, either through a Public Health Order which is for government to approve, or through my recommendations where I have expressed cautions around any type of gatherings where I said any gathering large or small use your COVID plan, including proof of vaccination, physical distancing, mask use in indoor places, only removing your mask while seated at a table – it doesn't matter if it's a restaurant or at a private gathering – use the protocols that are working well in places where proof of vaccination is required. And that allows us to do things a bit more than we were able to do in the past which such high case numbers. But we still need to be careful, otherwise unfortunately we could well see a surge in November and December – there's no way I think that any health system could tolerate 250 people in ICU."
In five modelling scenarios, the potential in two scenarios exists for close to 250 per day being admitted into ICU, with three other scenarios helping bring down COVID totals below 50 new ICU cases per day by mid to late November.
"We need to be as careful as we can over the next few weeks to months, because even at our current case load of 200 to 300, if you're not careful, we have seen, especially in gatherings where people are unvaccinated and vaccinated mixed, that you can still see maybe not the large super spreader events we saw last year, but we can see chains of transmission that continue to then impact people in all ages, and unfortunately contribute to hospitalization," Dr. Shahab said.
"In my view I think we need to remain extremely cautious until our hospital and ICU rates come way down, and that will take several weeks if not months."
In one modelling scenario, while it is not calling for a lockdown, the recommendation would be to introduce a further reduction in how much people are in contact with each other through private and public gathering limits, capacity limits and work from home recommendations.
"Instead of closing restaurants and bars and other public venues, we think the proof of vaccination, negative tests, as well as mask use, other COVID protocols is keeping these venues open and safer. Nothing is 100 per cent safe, but it's keeping it safer. The gaps of course are private household gatherings."
His recommendation is to limit household visitations to just two or three consistent vaccinated family or friends where you can choose to meet without masks. He noted that when you introduce unvaccinated individuals to indoor visiting scenarios it increases the risk.
"We've seen unfortunately unvaccinated individuals exposing elderly fully vaccinated individuals, resulting in their hospitalization and death."
"Pockets of under vaccinated individuals can still generate large propagated outbreaks. And hence our cautions around not just Thanksgiving but now Halloween is coming up, and as we enter the holiday season we still need to remain extremely cautious."
Included in the presentation was data showing the effectiveness of vaccines in Saskatchewan. Utilizing data from August 13 to September 13, individuals are six times less likely to get COVID if you're fully vaccinated, 13 times less likely to require hospitalization if you're fully vaccinated, and 28 times less likely to require ICU care if you're fully vaccinated.
"I think this is a critical slide. The vaccines are extremely effective in preventing mild illness, but especially in preventing hospitalization and ICU care."
He noted that there will always be a proportion of mild COVID cases in people fully vaccinated people, but higher vaccination totals will lessen the strain on the healthcare system.
"The aim of the vaccination program is primarily to reduce hospitalization, ICU admission and death. And we have to remember that as the core aim of the vaccination program, not to necessarily eliminate COVID because COVID is not like Polio or Measles where you can aim to eliminate it at the present time with current vaccines. But certainly to reduce the pressure on hospitalizations and ICUs and unfortunately deaths."
Dr. Shahab expressed his frustration with stalled immunization numbers in the face of the factual data showing the efficiency of vaccines.
"The rate that which our vaccination uptake is happening is too slow and that really need to pick up," Dr. Shahab said. "I'm certainly not willing to accept Saskatchewan should be the lowest in first dose, second dose. I don't see why we can't be like other provinces or jurisdictions who now have 95 per cent plus vaccination rates, or many workplaces that have 98 per cent vaccination rate. That is what I think we should expect from each other in Saskatchewan."
"All the evidence is out there. And it is very disturbing to see unvaccinated, young, healthy people ending up in ICU and dying. I'm watching this from a distance, but we talk about burnout…to see young lives lost to a vaccine preventable disease, how can we accept this in a country that has had vaccines available for everyone ever since July? So again the fact that event the small proportion who remain unvaccinated are generating enough cases."
He added that COVID in unvaccinated people has both an impact on their health and a societal impact of delayed healthcare while dealing with higher COVID totals.
"It is very challenging because we all want this to be behind us. And it won't be for many months for other reasons, and we'll have to look at booster doses and other precautions for the next little while."
"But right now I think we have an opportunity as the modelling shows…by reducing our contacts, getting as high a vaccine uptake as we can, and just being careful in our social contacts, and we can turn this around. And we've done this again and again, public health orders help, but ultimately its been our collective and individual actions that have turned things around."
"Forty per cent of all hospitalizations are in people under 50, and the vast majority of those are in people who are unvaccinated. So again if this alone could be taken away by vaccinations this would address a significant portion of the pressures on acute care."