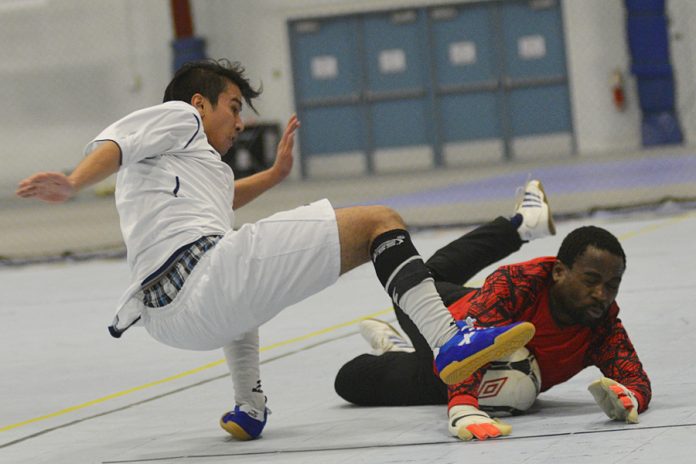 The Swift Current Soccer Association crowned two Indoor Soccer League champions with a pair of nail-biting championship matches Tuesday.
The night opened with the heavily favored United U18 Girls slipping past the U16 Girls with a 5-4 victory. The U18 Girls led 3-1 at halftime on goals from Jessica Warren, Lauryn Hayes, and Rebecca Treen, while Montana Adair had opened the scoring for the U16 Girls.
Adair scored twice for the U16's in the second half and they also scored on an own goal to make it a close game. Warren added her second of the game and fullback Brooke Vallee scored the eventual game winner on a solo rush for the U18's.
The U18 Girls had run away with the regular season title with an 11-0-1 record, 18 points ahead of the U16 Girls (5-6-1).
Hayes was awarded the Golden Boot for a second straight season with 25 goals in 12 matches. The U16's MJ Anderson and Adair tied for second with 11 goals each, while the U18's Hayley Bitz was fourth with seven goals.
The men's championship match featured the defending champion Some Bugs versus PSC, who had won the league in the two previous seasons, and who had topped the regular season with a 13-1-1 record. Some Bugs had only five players for the final and had placed second in the regular season with an 8-5-2 record.
PSC certainly controlled the balance of possession, but it was Some Bugs who claimed the league title with a 4-3 win in overtime when Jayden Haubrich converted on a breakaway midway through the first overtime period.
Haubrich finished with a hat trick for Some Bugs, while newcomer Ahmad Alrahhal also scored. Goalkeeper Lamuel Mushoriwa was a standout for Some Bugs as he put his body on the line to limit the high-scoring PSC squad to only three goals. Misha Sviatetskyi scored twice for PSC, while Geoff Horn added a single.
Horn repeated as league scoring champion with 27 goals, followed by Some Bugs' Levon Finlay with 22 goals. PSC's Stephen Useche was third with 18 goals, while  Sviatetskyi and BPSC's Tyler Moate tied with 12 goals each.