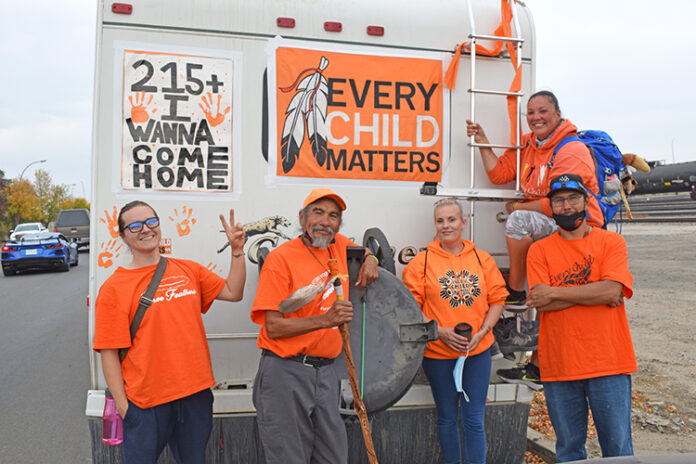 Jasmine Lavallee's two decade old vision has turned into reality as she is currently in the midst of a walk from Winnipeg to Kamloops to help make a difference in the lives of children.
Lavallee is leading a group of five people who are highlighting the continuing harms being done to children around the world, as well as walking in memory of the tragic finding of 215 buried children at the grounds of the former Kamloops Indian Residential School.
"It was just a dream. I dreamt the words 'Save The Children' 20 years ago. So after everything started recently, everything started making sense and coming together," she said during an interview during a stop in Swift Current on Wednesday.
"I'm just tired of seeing children done wrong. Right from the beginning children have always been brought last, done wrong to. They need to know that there's good people out here that care for them. We don't need to know them, we just do it."
She noted they are walking on behalf of all children and all survivors of abuse. They are taking this stand for the children of today and tomorrow, and to pave the way so they can have better futures.
She says the walk also needs to shine a light on the impacts of Residential Schools and the Sixties Scoop.
"When I was going to school I knew that we had it good because I remember my mom always saying that their schools had graveyards and not playgrounds."
As part of her emotional journey she is carrying a backpack filled with children's moccasins.
"We treat them like a baby. They never touch the ground. They don't leave our side. We smudge them every morning. We're taking them to Kamloops, but the difference with these 'babies' is we're bringing them back home."
Before starting her trip she first asked a number of people for moccasins, and ended up ordering a pair from a man on Portage Avenue who was making moccasins. When she returned to pick them up she learned that man was from Kamloops, and his father spent his whole childhood in a residential school.
Now, each pair of moccasins comes along with a memory, a meaning, and a depth of feeling.
The group admitted they have been overwhelmed by the support and random acts of kindness along the way, having received blankets courtesy of the MCC in Swift Current, benefiting from donated camping sites, along with having people walk along with them for short distances.
"Any negativity that we've walked through, the goodness of others has been absolutely amazing."
Lavallee said that the waves, honks from passing motorists, and other shows of support have helped fuel her resolve to keep going.
"I would still be sitting at home if I didn't get off my butt and start walking. I'd still be sitting at home thinking that everybody is the same. I had to get out on the road and walk for how many days to realize there's so many good people out here. So many people that care. You've just got to make those steps, make that effort."
"I just hope that these people go home and tell their kids 'there's people out there that care, we saw them walking. They're doing it for you.' That's what I want, go home and tell your children that we care."
People are invited to follow their journey on their Facebook site 215+ I Wanna Come Home, or lend support to their journey via their Go Fund Me page under 215 Plus I Wanna Come Home.