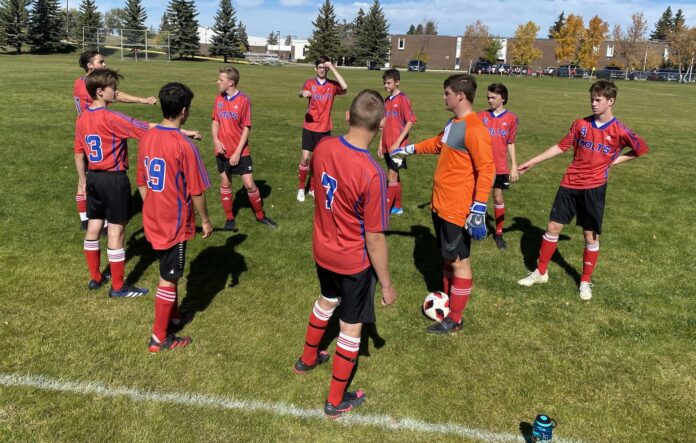 The Swift Current Comp. Colts scored three late goals to draw the visiting Moose Jaw AE Peacock Tornadoes 4-4 in the Moose Jaw High School Soccer League on Saturday.
Peacock capitalized on early opportunities to take a 3-0 lead by the beginning of the second half. The Colts managed to net a goal off a Rowan Reimer corner kick only to allow Peacock to score another goal and go up 4-1.
SCCHS stormed back in the final 17 minutes with goals from Reimer off a beautifully place cross from Zach Kielo and another from Austyn Funk's corner kick. With one minute remaining and down 4-3, the Colts netted the equalizer off a Carter Munro goal from a corner kick placed by Reimer in an exciting finish.
"We had numerous chances all through the game but just couldn't capitalize," said coaches Chris Garner and Lindsey Munro. "Both teams had 10 and 11 players and opted to play 9v9, which on Irwin Field is quite the challenge with a limited bench for substitution."
The Colts are now 1-0-1 on the season.
"We see a team beaming with opportunity and after witnessing the adversity they faced with a never quit attitude, we think this team will only find improvement and growth," said the coaching staff.
The Colts are back in action on Monday at 3:45 p.m. on Irwin Field to play their postponed match against Moose Jaw Central. The Colts will also be in action against Yorkton Regional in Regina on Wednesday.