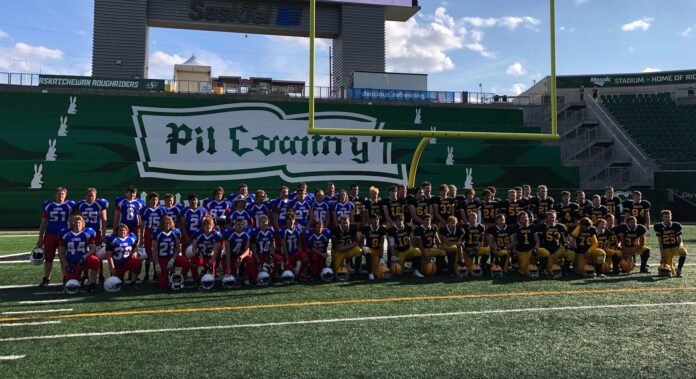 The Gull Lake Lions opened another uncertain football season with a memorable day on the turf at Mosaic Stadium in Regina.
The nine-man football team held a joint practice and controlled scrimmage with the Melfort Comets on Friday afternoon at the home of the Saskatchewan Roughriders.
"It was great for the team. Coming off of last year, we did manage to get in four games, four local football games last year, but really a truncated season that was more or less just exhibition last year. So to get back into football this August and then to have this controlled scrimmage with Melfort lined up for the first week of school was just awesome. It really kind of lit a fire under the team at practice for the two weeks prior to it and the kids were really looking forward to it," explained assistant coach Neal Boutin.
"It was just a great way for the kids to be on the field where the Riders play… It was a pretty awesome experience for them to be in the tunnel and to run out on the field was pretty cool."
Boutin explained that Comets head coach David Rogers invited the team to participate in the event in late June. "We jumped at the chance to have a tune up/practice game against a seasoned nine-man program like David has in Melfort."
"I'm not sure if some of the parents weren't looking forward to it even more than some of the kids were," Boutin laughed. "It was a great way to kick-off the season that's for sure."
The Lions boarded the bus at 10:30 a.m. and were on the turf at 3 p.m. for warm-ups.
"We broke the teams up into linemen, DBs/linebackers, receivers/running backs for around 20 minutes of drills before setting up our scrimmage. Since Melfort had 37 players dressed, they wanted to have two 'mini games' going. Since we only brought 23 players it was a bit tough to play two nine-man sessions, so we agreed to have the 'starters' play nine-man while the young guns played some six-man on the opposite end," said Boutin.
"One of the big things was when I got the call from David Rogers in Melfort to come and have a controlled scrimmage against them the first thing that was off in my mind was that Melfort's a well oiled team that's awesomely coached. They have a couple of ex-Huskies that are coaching there. So we were really priming our guys to not only go there to play and have fun and do your best, but also to learn from the experience of other coaches to have a few more different voices talking to them."
"The first half we basically had a two team practice, which was just awesome for the boys to get to work with a bunch of different coaches and see different alignments. We are back to nine-man, but a lot of these kids haven't really seen much nine-man, so it was a great learning experience too," added Boutin.
The Lions will now turn their attention to the regular season, where they have returned to nine-man football after playing six-man in recent seasons.
"We're looking at this season to really get back into the nine-man groove. Our numbers are not bad. We're going to have about 26-27, maybe even 28 players when it all shakes out. We have a good mixture of kids in each grade, lots of grade 12s, which makes the jump back to nine-man a little easier when you have more seasoned veterans who are going to be on the field who've been there before."
The Lions will play in a six-team conference with Indian Head, Lumsden, Notre Dame, Maple Creek, and Shaunavon and will open the regular season on September 17 against visiting Maple Creek.
"We are definitely looking forward to rekindling the local rivalry between us and Maple Creek and Shaunavon, that's for sure," said Boutin.