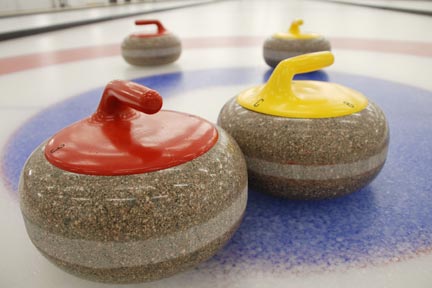 A pair of Southwest curlers helped Team Casey win the 2017 SaskTel Tankard Men's Provincial Championship in Tisdale.
Cabri's Shaun Meachem and Swift Current's Jeff Chambers were both members of Team Casey, who defeated defending champion Steve Laycock in Sunday's final.
Meachem was playing second on Team Casey, skipped by Adam Casey, and supported by lead Dustin Kidby and third Catlin Schneider, while Chambers was the alternate player.
The Regina Highland Curling Club rink won their opening game Wednesday with a 7-3 win over Saskatoon's Scott Bitz, scoring three points in the ninth end to put the game out of reach.
Team Casey advanced in the A Event on Thursday morning with a 5-4 win Rosetown's Carl deConinck Smith when they scored a single point in the 10th end. Kidby suffered an injury during the game and the team had to finish the game with only three players.
Chambers stepped into action for Team Casey that evening and they scored two points in the final end to defeat Saskatoon's Dale Craig 6-5 on Thursday evening to advance to the A Event Final.
They suffered their first loss on Friday afternoon in an extra end, 6-5 to Saskatoon's Steve Laycock.
The Casey rink rebounded nicely Saturday with two wins to emerge from the B event into the Page Playoff. They opened the day with an 8-5 win over Saskatoon's Jason Jacobson. They added an 11-3 win over Saskatoon's Kody Hartung with a six-point seventh end to win the B event.
Team Casey met Laycock again in the Page 1v2 Playoff game. Laycock led 5-4 after seven ends but Casey scored three in the eighth and then stole one for an 8-5 win.
The two rinks met for a third time in the provincial championship game on Sunday afternoon and Team Casey earned a dominant 11-3 victory in eight ends. They opened the game with a three-point first end, added three in the third end and then stole three in the fourth to claim the provincial title and earn a trip to the 2017 Tim Horton's Brier in St. John's Newfoundland on March 4-12.
A Fox Valley rink skipped by Ryan Deis won once and lost three games at the Tankard.
Team Deis was comprised of lead Kalin Deis, second Jason McPhee, third Scott Manners, and skip Ryan Deis. They were coached by Kay Montgomery.
The Fox Valley rink opened the event with a 5-3 win over Saskatoon's Jason Jacobson on Wednesday when they allowed only one point over the final six ends.
They dropped to the B Event in an 8-6 loss to Hartung on Thursday morning. A three-point eighth end was the difference.
They suffered a 7-2 loss to Estevan's Brent Gedak on Thursday evening. The Fox Valley rink needed a win Friday against North Battleford's Drew Heidt in the C Event but lost 8-5 to end their weekend.