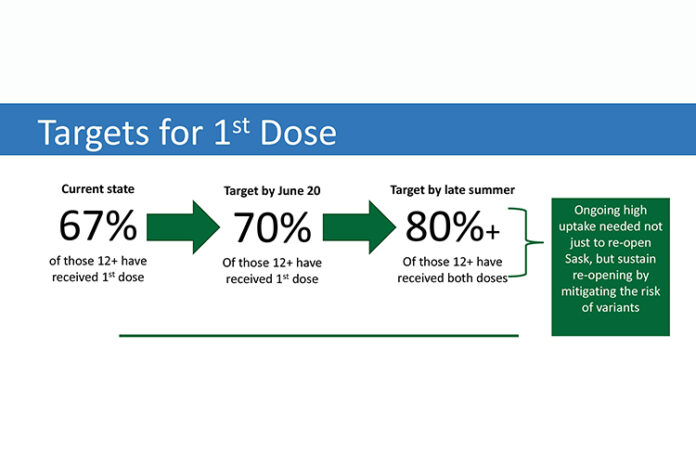 The Saskatchewan Health Authority is enacting a series of enhancements in their vaccination delivery strategy in order to push the province past the 70 per cent first dose vaccination target.
During a media availability on June 15, the province announced some delivery strategy changes to address the reality that vaccination rates for 12 to 39 years olds in Saskatchewan is low compared to those 40 and over.
"Through our booked clinics, pharmacies, hundreds of pop-up and mobile clinics across Saskatchewan we have made significant efforts to reach people where they are. But like every strategy it needs to be adjusted and tweaked as more evidence and data and feedback comes in," SHA CEO Scott Livingstone said during Tuesday's COVID-19 update.
There are a trio of new opportunities to receive first dose vaccines this week in Swift Current. On both June 17 and 18, the province announced there is a family outreach for bused students tied into the school vaccination clinics. There is also a drive-thru first dose priority clinic set for Swift Current on Saturday, June 19.
In the region, there will be an enhanced first dose opportunity during the school clinic in Gull Lake on Friday, June 18. There is also a walk-in clinic in Assiniboia, Ponteix for prioritized first doses on June 19.
Premier Scott Moe highlighted during the COVID-19 update that the health benefits of being vaccinated are more valuable than any lottery prize they could offer as a first dose incentive.
"The fact is this, in this part of the world you are already winning by just getting vaccinated and having the opportunity to get vaccinated," Moe stressed.
In Saskatchewan, 92 per cent of new COVID cases are among people who are not vaccinated at this point in time. Additionally, 82 per cent of COVID-19 hospitalizations involve people who are not vaccinated. These statistics show the vaccines are working and that no further incentives are needed.
"Here's what you win. You get to protect yourself from COVID, and this numbers show that vaccines do work and they work very well. You get to protect your family, your friends, your loved ones, and everyone around you from this COVID virus."
"If you like to gamble, then I would suggest that you don't get your shot. The prize is not what you think it is."
Another win for provincial residents is once they get their first dose and then get fully vaccinated, their communities and ultimately the whole province will be able to move forward in safely reopening and removing the restrictions which have been in place for over a year.
"So health, piece of mind, a safer province, safer committees, and the return to things as we once knew them – those are pretty great prizes in my mind – and all we need to do is go out and get vaccinated. And when everyone does we get to win all of those prizes."
In addition to the first dose strategy, Saskatchewan is quickly proceeding through their second dose vaccination program.
Saskatchewan lowered the age for second shots to individuals aged 50 and over on Monday, and on Thursday, June 17 the age eligibility will further drop to age 45 and over.
At 8 a.m. on Thursday, June 17, any Saskatchewan resident aged 45 and over will be able to access the COVID-19 vaccination appointment booking system.
Both the online saskatchewan.ca/covid19-vaccine booking system, along with the telephone booking system 1-833-SASKVAX (1-833-727-5829) between the hours of 8 a.m. and 9 p.m., will be booking for these additional ages starting Thursday morning.