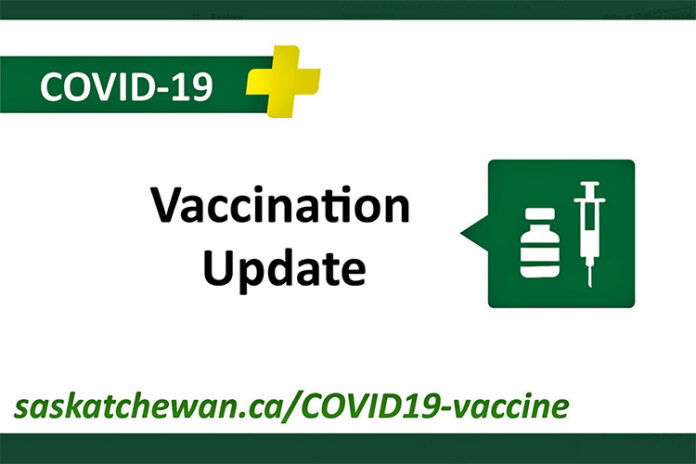 Southwest residents aged 35 will be eligible for the age-based immunization program starting at 8 a.m. on Thursday, May 6. This eligibility applies to all immunization clinics (booked appointments, pharmacies, drive-thru clinics, walk-in clinics, and any mobile clinics that are available).
Both the online saskatchewan.ca/covid19-vaccine booking system, plus the telephone booking system 1-833-SASKVAX (1-833-727-5829) which is operational between the hours of 8 a.m. and 11 p.m., will be booking for individuals 35 and over starting Thursday morning. The eligibility list also continues to include a series of front-line workers and First Responders, any remaining phase one health care workers, plus people with underlying health conditions who have received an eligibility letter.
Additionally, a series of Southwest pharmacies are now booking immunization appointments after being added to the list of participating locations following an initial pilot program primarily in Regina.
As of Tuesday, May 4, the following regional pharmacies were offering a limited number of vaccinations:
Assiniboia
Shoppers Drug Mart No. 433 424 Centre Street
Southland Co-op Pharmacy 409 Centre Street
Gull Lake
Gull Lake Pharmacy 3460 Rutland Avenue
Herbert
Harder's Pharmacy 604 Herbert Avenue
Leader
Leader Pharmacy 100 1st Avenue W
Shaunavon
Jae's Pharmacy Ltd. 335 Centre Street
Rx Drug Mart #3004 353 Centre Street
Swift Current
Drugstore Pharmacy No. 6705 1501 North Service Road E
Pharmasave No. 406 390 Central Avenue N
Pioneer Co-op Drugs #4 1150 Central Avenue N
Rexall No. 7301 780 Central Avenue N
Shoppers Drug Mart No. 2456 911 Central Avenue N
Wal-Mart Pharmacy No. 3099 1800 22nd Avenue NE
All participating pharmacies are determining their own booking procedures. Details on pharmacy immunizations can be found at www.saskatchewan.ca/covid19-pharmacies.