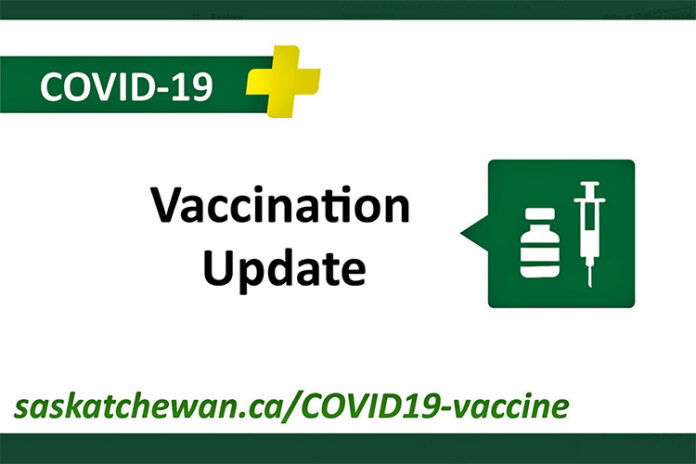 The Saskatchewan Health Authority will be decreasing the age eligibility for COVID-19 vaccinations to ages 44 and older effective Thursday morning.
Previously dropped to ages 48 and over last Friday (April 16), the vaccination appointment booking system will open at 8 a.m. on Thursday, April 22 to all Saskatchewan residents aged 44 and over.
Both the online saskatchewan.ca/covid19-vaccine booking system, along with the telephone booking system 1-833-SASKVAX (1-833-727-5829) between the hours of 8 a.m. and 11 p.m., will be booking for these additional ages starting Thursday morning.
During a COVID-19 media update on Tuesday, Premier Scott Moe confirmed the province is on track to lower the immunization eligibility age to 40 by next week.
"Based current allocation schedules, we expect to lower the province wide eligibility age to 44 and older this Thursday, April 22nd, and to 40 and older by sometime mid next week," Premier Moe said during the April 20 press conference.
The province announced earlier this week that Saskatchewan will be lowering the age restrictions on the AstraZeneca vaccine to the age of 40. With this change the province hopes to reduce the vaccine eligibility age to 40 effective Wednesday, April 28.
"Now that we have made significant progress among older age groups, we can look at adding some other groups of front line workers to the priority group that would then be eligible for vaccination in the days ahead."
Once Saskatchewan opens the vaccination schedule to individuals aged 40 and over, the province will also be opening up vaccination available to additional groups of first-responders and front-line workers, including:
Police officers;
Firefighters;
Front-line healthcare workers with direct patient contact employed by the Saskatchewan Health Authority or private employers (including dentists, optometrists, chiropractors);
Teachers and educational staff working directly with students;
Correctional staff;
Border security officers.
Detailed information on appointment booking arrangements for these additional groups will be announced this coming week.
Moe also highlighted his recent discussions with North Dakota Governor Doug Burgum, and the differences between the two jurisdictions who share a common border. North Dakota has a healthy vaccine supply, and they are currently vaccinating all people aged 18 and over.
Moe noted North Dakota may be able set up a vaccination clinic just south of the Saskatchewan/North Dakota border to vaccinate Saskatchewan truckers who are driving back into Canada.
"This is an extremely generous offer by the governor of North Dakota and by the people in the state of North Dakota, and one that is appreciated by myself and by this province," Moe said.
He also pointed out that North Dakota, a state of just over 760,000 residents, recorded a COVID outbreak peak of over 2,000 cases per day back in November and had more than 300 people in hospital. Thanks to their successful vaccination efforts, over 65 per cent of North Dakota's population have received their first dose, with their daily case average dropping to 140 cases, and 35 people are hospitalized.
Moe is hoping Saskatchewan's vaccination program eventually reaches that level of success, but the province is being hampered by vaccine scarcity and erratic supply, along with variants of concern. Saskatchewan's seven day average case total peaked at 284 cases per day on April 15, and that total has dropped to 247 cases, which is a decrease of about 13 per cent.
"While that's encouraging, case numbers and hospitalizations are still too high. So we are extending the current public health orders that were set to expire on April 26 by two more weeks out to May 10."