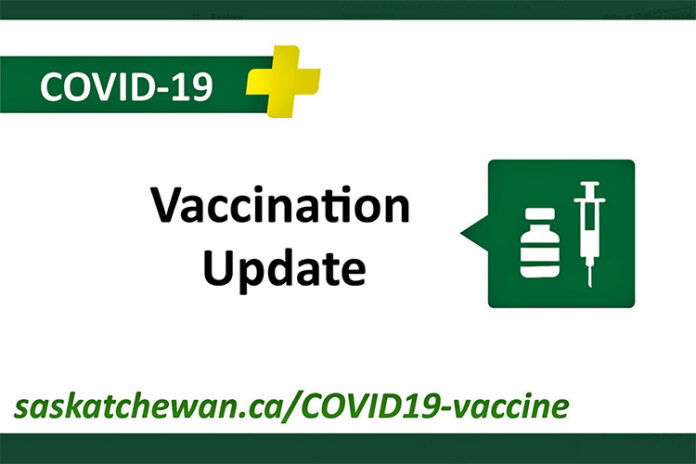 The Saskatchewan Health Authority will be lowering the eligibility age for COVID-19 vaccine bookings down to ages 48 and older effective Friday morning.
At 8 a.m. on Friday, April 16, any Saskatchewan resident aged 60 and over will be able to access the COVID-19 vaccination appointment booking system.
Both the online saskatchewan.ca/covid19-vaccine booking system, along with the telephone booking system 1-833-SASKVAX (1-833-727-5829) between the hours of 8 a.m. and 11 p.m., will be booking for these additional ages starting Friday morning.
Additionally, a Drive-Thru vaccine clinic will be held in Swift Current (801 Cheadle St. W.) from 8:30 a.m. to 4 p.m. on Friday (April 16) for individuals aged 48 to 54 only.
All drive-thru and walk-in clinics will be on a first-come, first-served basis. No appointment is necessary, residents can attend at their convenience.
Additional details for drive-thru and walk-in clinics, including the most up-to-date wait times can be found at: www.saskatchewan.ca/drive-thru-vax. Those attending drive-thru or walk-ins with previously booked appointments are encouraged to cancel, ensuring the next eligible person can receive vaccine.
The type of vaccine available at a clinic can change depending on a number of factors, but all vaccines are safe, effective and approved for use in Canada. All vaccines available in Canada are extremely effective at preventing serious illness and hospitalization.
With a continued increase of COVID-19 variants of concern, additional steps are being taken throughout the province to offer vaccine to younger age groups to keep immunizations progressing as quickly as possible. In order to accomplish this, the Pfizer/BioNTech will be introduced to all current and future drive-thru immunizations clinics. This change will help to remove any vaccine-related age-barriers that prevent immunization of younger residents.
Vaccine Eligibility
COVID-19 vaccine booking eligibility changes to 48 years and older, as of 8 a.m., April 16. Booking eligibility remains unchanged for individuals 40 years and older living in the Northern Saskatchewan Administration District, all remaining phase one health care workers, and people with underlying health conditions who are clinically extremely vulnerable through an eligibility letter.
All remaining phase one health care workers are invited to book their vaccination by calling 1-833-SASKVAX (1-833-727-5829) between the hours of 8 a.m. and 11 p.m.
Booking online is not available for this category. These individuals require proof of their eligibility in order to book – this will be provided directly to them by their employer.
A list of positions that qualify within this category are listed on the saskatchewan.ca website.