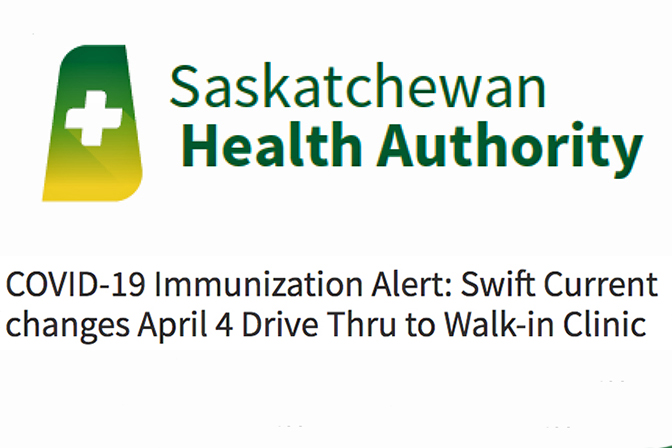 Windy conditions forecast for Easter Sunday has prompted the Saskatchewan Health Authority to switch the April 4 COVID-19 immunization clinic from a Drive Thru Clinic into a Walk-In Clinic.
The no appointment necessary clinic will be hosted from 8:30 a.m. to 6 p.m. at the old Central Medical Clinic in the Hillside Plaza (#6 – 1061 Central Ave. N.). Any Southwest resident aged 55 years of age and older can receive the AstraZeneca vaccine during this first-come, first-served clinic.
Swift Current will also be hosting two no appointment necessary Walk-In clinics from 8:30 a.m. to 4 p.m. on Monday, April 5 and Tuesday, April 6, also at #6 – 1061 Central Ave. N.
Swift Current's five clinics were announced on April 1 in response to the anticipated arrival of over 45,000 doses of the AstroZeneca vaccine allocated from the United States, along with a shipment of approximately 55,000 doses expected to arrive between April 1 and April 7.
The initial walk-in clinic was well attended, with a line-up of approximately 100 people circling the building in the first hour of the clinic. The provincial government reports that 383 vaccines were delivered in the South West on Friday, and it is believe that these vaccinations all occurred at the walk-in clinic.
The Saturday Drive Thru clinic was also busy, with a continual line-up of about 100 vehicles counted during the morning portion of the clinic.
Additionally, COVID-19 vaccine appointment booking system currently is open to residents 58 years of age and older. Eligible residents are encouraged to book their COVID-19 vaccinations online www.saskatchewan.ca/covid19-vaccine or by phone at 1-833-SASKVAX (1-833-727-5829). Additional information on how to book your appointment is available at www.saskatchewan.ca/covid19-vaccine-booking.